Area HR directors form collaborative group
November 5, 2017
All human resources (HR) managers in the Madison area report they are facing the same problem -- not enough workers to fill job openings.
At 3.4 percent, South Dakota has the tenth lowest unemployment rate in the nation, says September 2017 data from the U.S. Bureau of Labor Statistics; the Sioux Falls region is even lower, at 2.6 percent.
"We all face issues with recruitment," said Lori Schultz, HR manager at Mustang Seeds in Madison. "We have good packages and good places to work, but we need to know how to get the momentum to get people here," she said.
To help fellow managers understand how to address this and other HR issues, Schultz and Angi Kappenman, director of Human Resources at Dakota State University, are spearheading the formation of a new professional group for the 40 or so local HR managers.
"This will be a way to collaborate with issues that are present in the Madison area, and the HR world in general," said Kappenman. Twenty HR managers attended an introductory meeting on October 27, and discussed possible format and topics.
"I'd like to hear recruiting ideas from the other businesses," said Ashley Donley, Manitou's HR manager," to see what they have tried in dealing with the low unemployment rate and the small labor force."
Other suggestions included inviting speakers, conducting a wage and benefits survey, or topical discussions on requirements of law, Affordable Care Act changes or drug screenings. Trailing spouses is an issue affecting recruitment. If local businesses are able to hire employees, they may have spouses who need jobs as well.
"If we know what other businesses offer we can collaborate and help fill the needs," Kappenman said. "These are challenges our group can work on to make the Madison area an even better place to live and work."
"It's part of our responsibility as leaders," said Donley, "to help keep people in Madison and give them opportunity."
Other professional organizations could give strength to the local group. Lake Area Improvement Corporation (LAIC) and the Greater Madison Area Chamber of Commerce (GMACC) have been invited to participate, Kappenman said, regarding any local initiatives to support, such as housing initiatives, because "if we can recruit people, then we have housing issues," Schultz noted.
Resources could also come from a national professional organization. Schultz and Kappenman are members of the South Dakota Society for Human Resource Management (SHRM), and they receive HR information at SHRM conferences. Local group meetings "would be a good opportunity to share this kind of information," said Schultz. The Madison group could also become a SHRM chapter, Kappenman added. There are currently seven SHRM chapters in the state; nationally, there are 285,000 members in more than 165 countries.
"We hope this will be a great resource for everyone in HR," Kappenman said.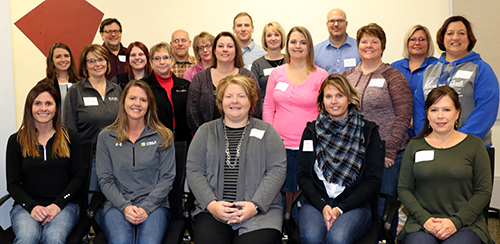 Local HR Managers have come together to form a local professional group. The purpose of the collaboration is to stay informed about issues in human resources, and to share ideas. HR managers attending the group's introductory meeting include: Jim Baltzer (back left), Rob Buchholtz, Mike DesLauriers; Camie Sims (row 3, left), Lexi Bohlander, Janet VanRosendale, Sara Wardner, Brett Gustin, Teresa Mallett; Peg Roehrich (row 2, left), Kathy Hauck, Susan Wise, Shelli Gust, Amy Williams, Lori Schultz; Jill Strom (front left), Rhonda Hoyer, Angi Kappenman, Ashley Donley, Theresa Schaefer. Area HR managers not pictured are Becky Glanzer, Jennifer Eimers, Rochelle Nowstrup, Liz Avery, Jessica Havlik, Julie Gross, Julie Janssen, Eric Hortness, Mitch Brooks, Amber Hobert, Randy Giedt, Brenda Franken, Cathy Moore, Lois Niedert, Nick Hansen and Vicki Kommes.