Area kids learn.create.build at Minecraft camp
December 27, 2016
A computer training session was likely not on most kids' Christmas wish list, unless that training session was on the computer game Minecraft.
That wish was granted for 46 local children who attended the Dec. 27 Minecraft day camp at Dakota State University in Madison.
Adam Learing, a 2009 DSU graduate, is co-founder of Learn.Create.Build.Academy, the company which sponsored the session. Shane Thomas is also a co-founder.
"We host technology camps for kids," Learing said, on programming, engineering, robotics, coding.
Many sessions feature the 2009 video game because it is "an amazing game that kids can relate to," Learing said, but it also has "learning built into it."
Clive Thompson wrote in an April, 2016 New York Times article that "Minecraft is… an almost perfect game for our current educational moment…"  With no official tutorials on how to play the game, the game is considered a sandbox game, with no traditional structure. That makes it a "canvas for human expression," said a March 23, 2015 Forbes article written by Ryan Mac.
Principles taught at the camp included computer skills, as the students learned the game commands on the company's PCs instead of the X-boxes or iPads they usually play on. Geography and topography were discussed as the boys and girls created volcanoes on their island worlds.
Online behavior was also discussed.
One of the three rules for the day was "no griefing." Griefing is officially defined as the use of destruction to irritate or anger people in video games, according to a Minecraft wiki on Gamepedia.com.
The kids understood the term, voicing their interpretations --"No destroying another person's place," and "No bullying." Perry Sumpter, 8, of Howard, said it means, "Don't be a brat on Minecraft." The students could only destroy something if they were on multi-player and the whole group agreed, Learing told the students.
The kids had no problem with the rules, they were just looking forward to the game.
Eight-year-old Connor Giedd was one of the students who received the camp as a Christmas present. He thought it was "Sweet!" when Learing announced that the whole day was going to be about Minecraft.
Reasons why it was a sweet deal varied. Christopher Lee, 10, from Colman, said Minecraft is a fun game because "You make your own stuff." Caleb Pettersen, 8, from Madison agreed that "getting to build crazy things" was the best part of the game.
Rori Hartman, 9, from Brookings, said she likes the game because "You get to experiment with different stuff," like redstone, said Grady Hanson, 9, from Madison. Redstone acts kind of like electricity, he explained. 
Cooper Sumpter (9) and Grace Lewis (10) like "everything" about the game. They are friends from Howard, S.D.
Parents like just about everything about the game, too.
Kari Blom of Madison said "Minecraft lets kids use their imagination," adding "it's surprising to see the size and range of structures, buildings, bridges, rail roads, etc. that can be created." Her son Brenden attended Tuesday's camp.
"He loves math already so it's easy to encourage my engineer to keep building. This camp lets him expand the world he already loves to play while hitting all of the learning objectives… important to me as a parent," such as critical thinking, problem solving, planning/design skills, and computer/technical skills.
Location and convenience also played a factor. "[The camp] was also a winner because it is a structured activity that falls conveniently during Christmas break and it's local."
Learing and Thomas started the Sioux Falls-based company in October of 2015. He received an accounting degree from DSU, but taught himself programming, and then got into developing STEM curriculum (science, technology, engineering, and math).
"Now I get to see the implementation" of that curriculum as it is used and changed for the camps. "You've got to adapt," he said.
The process has been fun, he added, and seems to be successful. Camps are held in about 21 locations in five states in the upper Midwest, ranging from Bismarck, N.D., to Omaha Neb., and from Rapid City to the eastern suburbs of St. Paul. The Madison camp cost $69/camper.
The academy has a team of eight people to keep the student:teacher ratio at 12:1.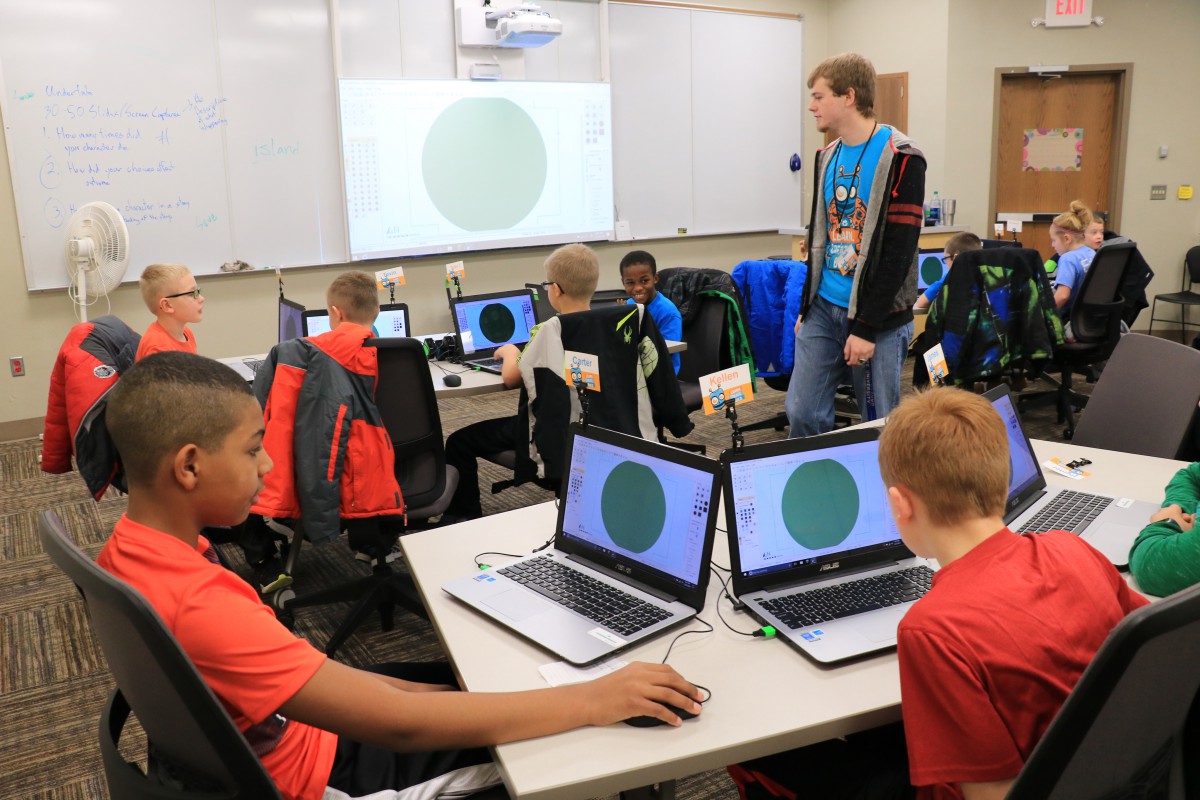 One of those staffers is Zach DeGroot, a network security major at Dakota State. The Hartford native has been with the academy for about a year. He enjoys teaching the students, and it fits in well with his minor in computer education.
Another staffer who helped with the Madison camp is Jeff Sand. He teaches technology and mass communication at Mt. Vernon Public School.
"It's a good experience for me and for the kids," he said. "The kids enjoy it and they learn some things."