December 7, 2017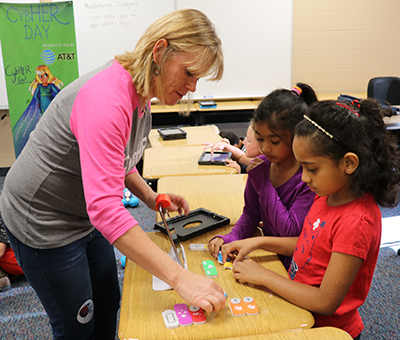 Dakota State University today announced a $14,500 contribution from AT&T to support the university's technology initiative, the CybHER program.
"With this donation, CybHER will host 10 branded events for the 2017-2018 year, with the intention of getting in front of over 1,500 kids and their parents in the eastern South Dakota region," said Dr. Ashley Podhradsky, associate professor of digital forensics and information assurance at DSU. Podhradsky and Pam Rowland, assistant professor of cyber security at DSU, are the co-founders of CybHER.
"We will be able to impact so many girls – and boys – with AT&T's gift," said Podhradsky.
One such event was held this fall at Endeavor Elementary in Harrisburg, S.D. Podhradsky, Rowland, and graduate student Stephanie Plucker spent the day introducing robots, coding and technology to groups of third and fourth graders during one-hour sessions.
"Realistically, we cannot teach them to be fluent in programming in one day, or teach them cryptography in an afternoon, but we can get them excited so they want to learn more about cyber," Podhradsky said. 
This fits in perfectly with the school's educational objectives. "We hope to inspire the learners to think about careers in technology, because technology is the way we are moving," said Kylie Knudson, a third-grade teacher at Endeavor Elementary School in Harrisburg, S.D. To accomplish this "it's nice to pull in outside resources, so that we can keep our learners learning."
The CybHER sponsorship also fits in perfectly with AT&T's educational initiatives. The worldwide company headquartered in Dallas, Texas, has several programs focused on student success and workforce readiness.
"AT&T is fortunate to work with wonderful collaborators like Dakota State University on innovative STEM-related programs such as CybHER," said Cheryl Riley, president, AT&T Northern Plains. "Helping students develop the skills they need to succeed in 21st century careers is a critical step to building the diverse workforce we need to power our company—and our country—for the future. Dakota State University has a track record of success, and this funding will allow them to provide students with the opportunity to thrive."