September 6, 2016
Earlier this year, Dakota State University artist and faculty member, Angela Behrends, along with contributing artists of The Blood Run Artworks of the Big Sioux, opened the "I Have the Honor to Report: Hiawatha Asylum Exhibit" at Augustana University in Sioux Falls, S.D. The exhibit is a visual representation of the dismal past of the Hiawatha Asylum for Insane Indians, a facility that operated in Canton, S.D., from 1902-1934. During that exhibit, Jeff Ballard, who also teaches at DSU in the College of Arts & Sciences and is the gallery director at the University of Sioux Falls, asked if the group would be willing to display their exhibit at the Mears Library Gallery at USF. They agreed.
I Have the Honor to Report
Mears Library Gallery at University of Sioux Falls
August 29 through October 10
Opening reception Thursday, 9/8/16 3:00-5:00 p.m.
"We want this show to honor, educate, and start to heal and reconcile this horrible bit of our SD history," stated Behrends.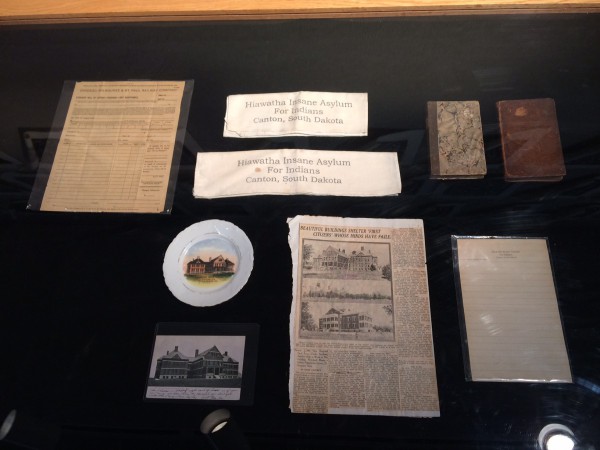 "I Have the Honor to Report" features both collaborative and individual artwork by Blood Run: Artists of the Big Sioux, including Jerry Fogg, Chris Francis, Chad Nelson, and Behrends. In addition to artwork about the asylum and the people that suffered there, copies of original correspondence from the Hiawatha Indian Insane Asylum to the Department of the Interior, Bureau of Indian Affairs, and artifacts from the asylum, including napkins, a small plate, stationery, and a picture postcard are on exhibit, courtesy of the Keepers of Hiawatha. Another document on display at this exhibit is a list of over 400 people admitted to the Hiawatha Indian Insane Asylum. This is important because, according to Dr. Anne Dilenschneider, many people are not aware that they have a relative that ended up in the asylum. 
While the "I Have the Honor to Report" exhibit is on display at USF, Anne Dilenschneider and Jerry Fogg, South Dakota Humanities Council Speakers Bureau Scholars, will deliver presentations about the asylum, how it came to be, and how it affected native people. Read more information about Dilenschneider and Fogg here:  http://sdhumanities.org/programs-and-events/grant-programs/speakers-bureau/scholars-2/