Bottom co-authors award-winning children's book
May 13, 2019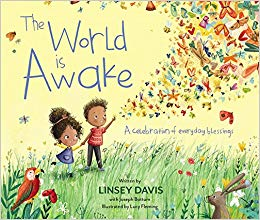 Dr. Joseph Bottum has been awarded the Christopher Award for his work on the book "The World is Awake: A Celebration of Everyday Blessings."
Bottum is an associate professor of philosophy at Dakota State University, and director of the Classics Institute.
The book was inspired by co-author Linsey Davis's three-year-old son, and is described as a lyrical, rhyming story for young children, kindergarten age and up. Psalm 118:24 is the blueprint of the book: "This is the day that the Lord has made; let us rejoice and be glad in it." It is intended to make children feel safe and joyful, cradled in the hands of God, and inspired to be thankful for all of God's blessings that surround them, from nature in the backyard to the animals at the zoo. The book is published by Zonderkidz/Harper Collins.
Bottum, along with Davis and illustrator Lucy Fleming, will be honored at The Christophers' 70th annual gala in New York City on May 23. Eleven books will be honored, representing 18 authors and illustrators, along with the writers, producers, and directors of nine feature films and TV/cable programs.
The Christopher Awards were created in 1949 by The Christophers, a nonprofit organization founded in 1945 by Maryknoll Father James Keller. The organization is rooted in the Judeo-Christian tradition of service to God and humanity. An ancient Chinese proverb guides the Christophers' efforts: "It's better to light one candle than to curse the darkness." The Christopher Award is intended to celebrate authors, illustrators, writers, producers, and directors whose work "affirms the highest values of the human spirit." More information about The Christophers is available at www.christophers.org.