Camp teaches STEAM activities to teachers
June 7, 2019
Dakota State hosted 125 K-12 educators for STEAM Camp, a one-day professional development event.
Educators were able to choose three of 18 sessions to learn more about hands-on activities that can be used to teach STEAM (science, technology, engineering, art, and math) in classrooms. Some session topics highlighted utilizing certain technologies like Flipgrid, Gimkit, and Google Classroom; others taught design thinking, making math fun, and using Edison robots, an inexpensive robot that comes with pre-created curriculum and programming lessons for kindergarteners to high schoolers.
Following the sessions, the entire group gathered to listen to fellow educators give Ignite Talks, which are five-minute presentations with 20 slides that auto-advance every 15 seconds. The five speakers were Travis Lape, LuAnn Lindskov, Jarod Larson, Kristin Mulder, and Preston Nordling. The speakers, employed at schools throughout the region, offered their colleagues advice and insight in the teaching world.
Nordling, a May 2019 DSU graduate who will be teaching at Harrisburg in the fall, shared his classroom experiences and highlighted the importance of forming relationships with students. An example he used was from a unit on weather, when Nordling dressed up as a weatherman for the class he was student teaching. This fostered engagement that strengthened his relationship with students.   
Kristin Mulder, director of digital education at Sioux Falls Christian Schools, shared that the three factors most important to teaching STEAM should be failure, productive struggle, and reflection. Students may fail, but by trying again they will learn productive struggle, and through reflection they will learn to examine the changes made each time they try again.
Those who attend the free, annual event can receive one graduate credit each year at the cost of $40.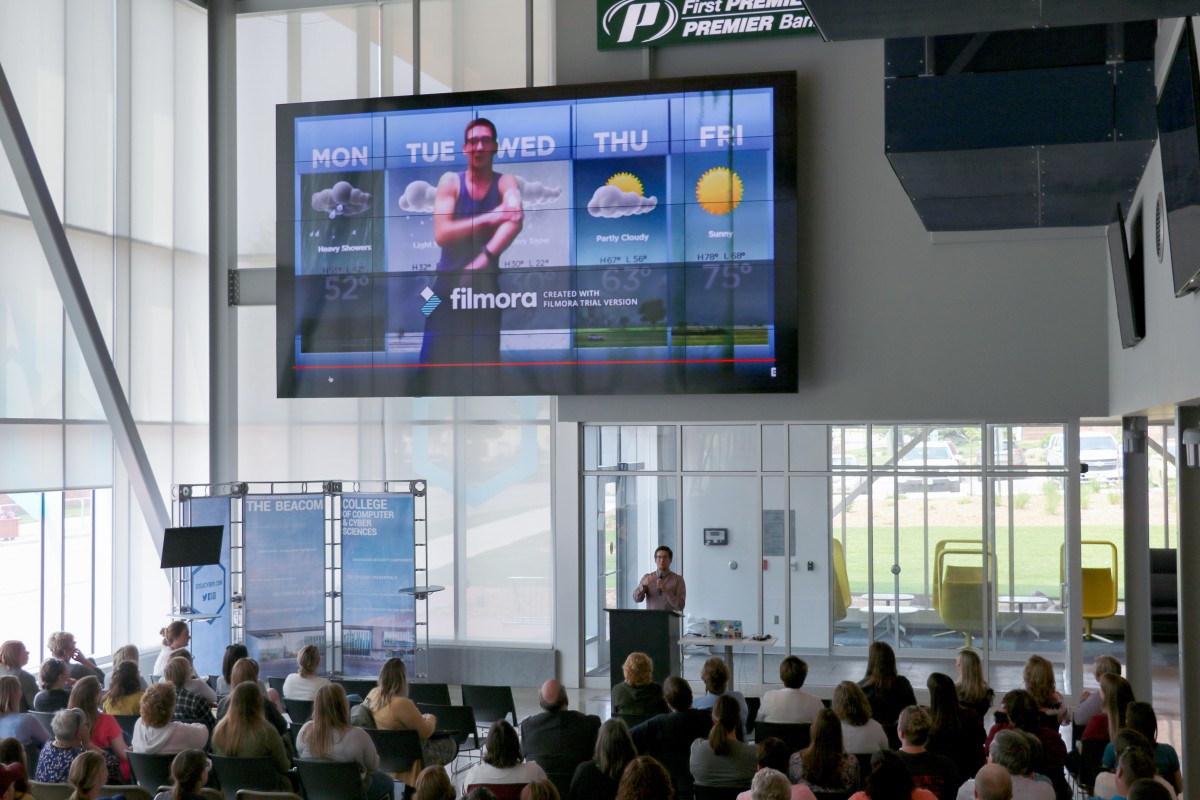 Preston Nordling gives a five-minute Ignite Talk to the 125 attendees of STEAM Camp at Dakota State.