Conference helps students network in global game market
May 17, 2018
Growth in the decades-old computer game industry shows no sign of slowing down.
Newzoo released data in April 2018 forecasting that the 2.3 billion gamers in the world will spend almost $140 billion on games in 2018. Newzoo is a global market intelligence company focusing on the game design industry.
To break into such a huge market, Dakota State University computer game design students and graduates have found that conferences offer opportunities for networking and recognition.
Mostafa Haque, a 2016 graduate, has attended one of the industry's largest conferences five years in a row, the Game Developers Conference (GDC) held every spring in California.
"As a student, networking opportunities with professionals are hard to come by, so being able to attend GDC is a major boost," said Haque. He has attended each year as a winner of the annual GDC narrative contest; in 2018 he was named a Platinum winner.
Many universities, including DSU, make their students aware of this competition. Students write a detailed and structured analysis of the narrative elements of a game title of their choice. Professional peers and fellow students see the winners' work at the Game Narrative Summit poster session held at GDC. There were 25 narrative winners from across the country for the 2018 GDC.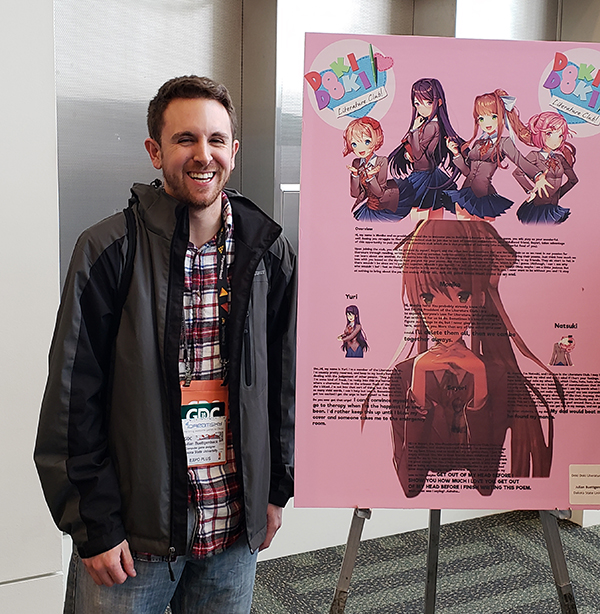 Julian Buettgenback (pictured left), a junior game design major from Sioux Falls, was the only current DSU student to win the competition this year, with a review of the game "Doki Doki Literature Club." While it is only a two- to three-hour game, he explained, it has a branching narrative with well-designed wording, art, and music. "To make the review more interesting I used dialogue similar to the game" he said, matching the game's narrative style. For his efforts, he was named a Gold Winner.
Haque noted that taking part in the conference helps develop important skills. "Presenting at the conference definitely improved my public presentation skills, and writing the narrative reviews helped me look at these games from angles I wouldn't have otherwise considered." He is continuing to use those skills as a graduate student at New York University, where he is studying for his Master of Fine Arts degree in game design.
Haque also noted the benefits of his DSU education. "The small classroom sizes gave me the opportunity to network with my instructors more than I would have in larger settings," he stated. "I am sure the small classroom sizes also enabled our professors to give each student the detailed feedback they needed to succeed."
Some of that feedback is offered on classroom projects created by junior and senior students. As part of the curriculum for the bachelor's degree in game design, upperclassmen enroll in year-long courses in which they create a game from concept to promotion. This year, Buettgenback's team created a murder mystery that involves time travel; he worked on the dialogue and building the look of the game. "You learn a lot from the hands-on projects," he stated. 
He also learned a lot about networking with his first-hand experience at GDC. As he met other students and gamers in the industry he said, "I wish I'd had business cards. I hope to submit to the narrative competition again for next year and I'll be more prepared."