CTE program shows area students a 'bright future'
November 2, 2017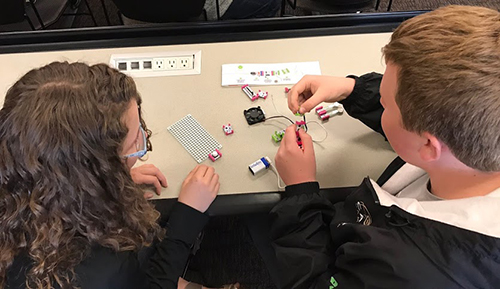 South Dakota middle school students have a bright future ahead of them, said Kelly Blok, the business and computer teacher at Garretson School District.
One hundred and two area students from eight schools were made aware of these opportunities through a CTE (career and technical education) event, held at the University Center in Sioux Falls on October 13. Students from Madison, Garretson, Parker, Sisseton, Chester, Tri-Valley, Brandon Valley and Sioux Valley attended the event, hosted by Dakota State University faculty.
"The event was a great way for our students to get outside of the classroom walls to see how technology is used and applied in a variety of careers," Blok said. 'As a teacher, I was excited to have experts in these technology fields share their expertise and perspective with our students."
CTE events such as this "provide glimpses into the positive applications of technology in our world today," said Chris Kreul, chief technology officer from Fishback Financial. He spoke to the group during their pizza lunch which was sponsored by Matt Emick from Executive Functions Management (EFM). Fishback Financial provides banking products and services to families and businesses in the U.S.; EFM is an information technology-focused event management and production company.
"The DSU team puts on amazing sessions to inspire students to learn about the far-reaching possibilities of technology," Kreul said.
DSU professors Kyle Cronin and Mike Ham used M&Ms to demonstrate computer encryption; a lock and key demonstration showed how important physical security is for a home or business. Dr. Ashley Podhradksy and graduate student Stephanie Plucker used robots called Little Bits to demonstrate problem solving and circuitry.
"It was especially exciting to attend the session where DSU students showcased some of their creative technology work," said Blok, such as game designs created by Dr. Jeff Howard's students, and Dr. Tom Halverson's display of 15 student projects dealing with programming and security.
"The students were highly engaged in the hands-on activities," said Breanne Lynch, the 7-12 business and computer teacher from the Parker School District. Also, "the DSU faculty and students were great about listening to [the students'] questions and giving them feedback and age-appropriate answers."
The CTE event was intended to inspire the students, but had a similar effect on the adults. 
"Watching the students engage with the presenters and hearing the exuberant discussions following the sessions recharges my passion for the field," Kreul said.
His message for the middle school students was to "be forever curious, seek to understand, and sharpen your problem-solving skills. While our future constantly changes, technology will continue to be a core pillar of every successful company."
Other skills were demonstrated by the sessions as well. "I hope students take away the importance of communication, teamwork, and problem-solving in computer science. The soft-skills were talked about in each session and will serve them well in all areas of life," Lynch said.
Blok added, "I hope that our students were made more aware of their future opportunities in technology and the potential that lies in each of them."