Dakota State Student Organizations Earn Recognition
October 4, 2017
The South Dakota Board of Regents recognized student organizations from Dakota State University for their outstanding academic, community, and organizational work.
DSU student groups receiving awards were:
Award for Academic Excellence – The Phi Beta Lambda (PBL) Business Club supports leadership and career development programs in business and education. The club focuses on team building, networking, project management, business organization, and academic integrity skills. Members gain advanced business skills while developing a professional resume and the opportunity to network with business leaders near and far. They also benefit from opportunities to travel to leadership conferences and competitive events.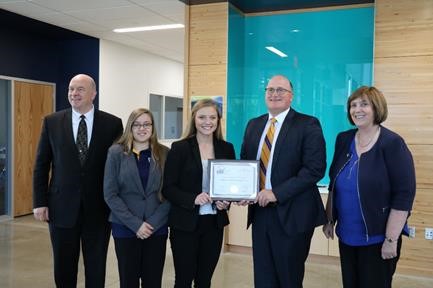 Executive Director Mike Rush, Cassandra Morgan, Lindsey Vogl, Board President Bob Sutton, and DSU President José-Marie Griffiths
---
Community Service Award – The Alliance at DSU provides a safe and comfortable environment for people of all identities, while raising awareness of the lesbian, gay, bisexual, and transsexual communities. The Gender and Sexuality Alliance strives to connect its members to the community through a variety of public service activities, including safe space training, a clothing drive, panel discussions, and special events.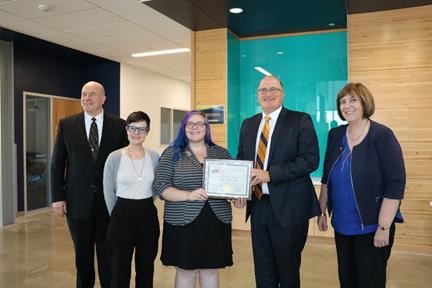 Executive Director Mike Rush, Group Advisor Stacey Berry, Rachel Groth, Board President Bob Sutton, and DSU President José-Marie Griffiths
---
Award for Organizational Leadership – The Computer Club promotes knowledge and interest in the science, design, development, construction, language, and application of modern computing. Weekly Computer Club meetings are held, featuring guest speakers, along with other specially scheduled activities. Club members spend on average about 10 hours per week planning and presenting events for the organization.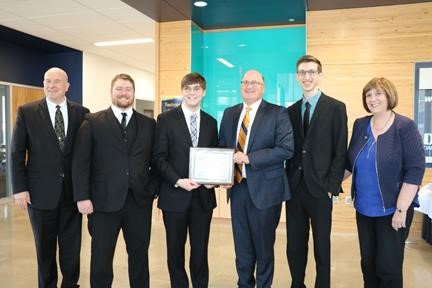 Executive Director Mike Rush, Austin O'Brien, Brian Vertullo, Board President Bob Sutton, Griffin Egner, and DSU President José-Marie Griffiths