April 19, 2017
Dakota State University students are good at being the defense in cyber defense, recently winning recognition for defending mock international voting systems, the U.S. water and power grid and nuclear defense systems from hackers.
This spring, DSU teams finished well at cyber defense competitions around the region that mimic real-life cyber defense situations. DSU and the other college teams act as blue teams, providing all the IT needs for a mock business or municipality, including email, web sites, etc. A red team, often made up of graduate students, faculty, or alumni, attacks the blue teams' networks, forcing them to repair and defend their IT systems. The longer it takes to correct a problem, the more points the team loses, mimicking the potential financial losses that entity can incur when their IT is down.
For the North Central Collegiate Cyber Defense Competition in Madison on April 1, the blue teams were nation states, in charge of missile defense systems and the country's voting system. DSU's team placed third out of eight teams.
On the same day, a DSU team took second place out of 15 teams at the second annual Cyber Defense Competition at Argonne National Laboratory, defending the U.S. water and power grid.
Two groups participated in cyber defense competitions at Iowa State University this semester. In February, the group calling themselves Tr0j4nh0r53 (a creative spelling of Trojan Horse), placed second out of 19 teams. Another team competed in March to a fourth-place finish.
Some competitions allow IT systems to be set up before the actual event, others are built and defended at the competition, but in either case, the students say the atmosphere created is very intense and high-pressure, providing a realistic learning experience. Nic Mews-Schmuck, a cyber operations major from Emery, S.D.,  calls the competitions "a robust experience," where "everything is cyber, cyber, cyber."
We learn team communication through the process, said Brian Vertullo, a cyber operations major from Orange, California. Michael Shema, a cyber operations and network security major from Rwanda, agreed about the team work lesson, but added they learn the importance of documenting their work. Mike Garippo, a cyber operations major from Illinois, said the experience is "fast-paced, but fun."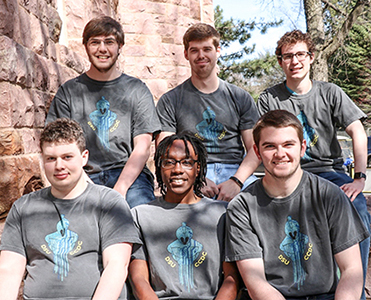 DSU students competing in the 2017 Argonne National Lab cyber defense competition are: Brian Vertullo (back left), Logan Sampson, Kyle Kaplan; Michael Cutshaw (front left) Amani Kegode, Jarod Keene. They placed second in the competition.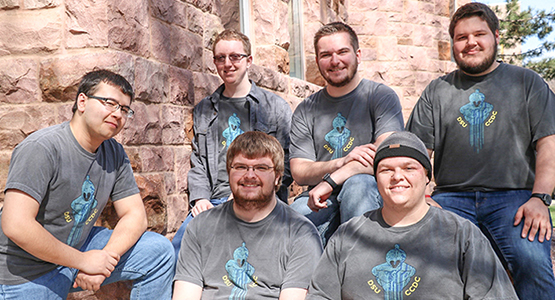 These DSU students placed third in the North Central CCDC competition in Madison earlier this month. Team members include Adam Good (back left), Dylan Johnson, Jacob Williams; Joshua Klosterman (front left), Nic Mews-Schmuck, Mike Garippo. Not pictured are Samuel Coome and Brad Bullock.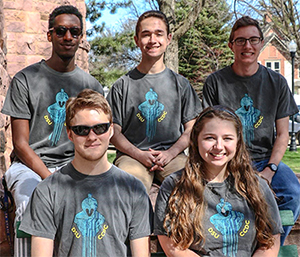 The DSU students who placed fourth at an Iowa State cyber defense competition include: Michael Shema (back left), Chase Lucas, Zayn Snydor; Trent Steen (front, left), Ivy Oeltjenbruns. Not pictured are Lee Flowers and Leigh Huff.