Dr. Ben Jones appointed Interim Secretary of Education
December 19, 2018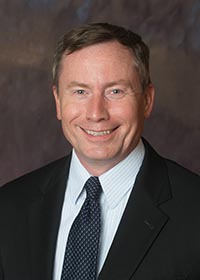 Dr. Ben Jones, dean of the College of Arts and Sciences at Dakota State University, has been appointed Interim Secretary of Education for the state of South Dakota by Governor-elect Kristi Noem.
Jones will be taking a six-month leave of absence from the university beginning January 5, 2019. Jones has been dean at Dakota State since 2013.
"We are excited for this opportunity for Dr. Jones. His experience with post-secondary education will bring valuable insight to the education department," said Dr. José-Marie Griffiths, president of Dakota State University. 
"Governor-elect Noem has asked me to work on ways to improve school performance with an initial focus on civic education," Jones said. "I will also develop a plan to increase transparency and accountability within the Department of Education."
"The State Historical Society and the State Library are also within the responsibilities of the Secretary and I am excited to look for ways those two agencies can have to be a greater resource for South Dakotans," Jones said.
"I am honored to serve the state in this role," Jones added, "and I look forward to returning to campus in May."
Dr. Judy Dittman, associate provost/title III director, will serve as interim dean of the College of Arts and Sciences.