Business students win recognition at national conference
October 26, 2017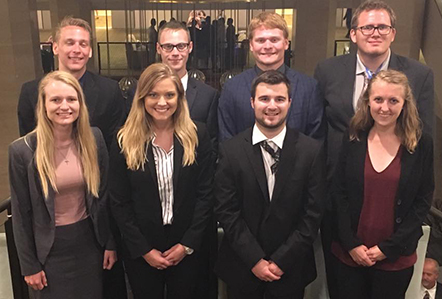 Students from Dakota State University's Phi Beta Lambda (PBL) made their advisor proud at the PBL National Leadership Conference in Anaheim, Calif. this June.
"Our students represented South Dakota with distinction at the conference," said Dr. Dan Talley, professor of economics and the club's co-advisor. "DSU is truly fortunate to have such talented and intelligent young women and men who are highly involved in our chapter of PBL."
Four of the students placed in the top ten in three events: Colin Miles, second in Management; Casey Bethke and Kelly Brusven, third in Desktop Publishing, a team event; David Weidler eighth in Business Statistics. Also competing were Lindsey Vogl, Leah Hofer, Isaac Citrowske and Morgan DuHamel.
Through this experience, students learn "to demonstrate their academic excellence in up to two academic content areas or skill events, such as impromptu speaking, business decision making, and business/IT case study analysis," Talley said. Students who finish in the top ten are presented with a trophy; those in the top five also receive a cash award, he added.
Because of the students' involvement in the club throughout the year, the DSU chapter also won a Distinguished Chapter Award, in recognition of the high level of activities on campus, along with participation in regional and national conferences, he stated.
Students also had the opportunity to meet and network with other PBL students from chapters across the country and listen to keynote speeches by business and industry leaders from the United States. They attended workshops on topics such as job interview skills, the transition from college to career, effective communication with co-workers and starting a business. The group was also able to tour sites in the Los Angeles area, including Disneyland's new Harry Potter attraction at Universal Studios.
Phi Beta Lambda is the collegiate-level counterpart to Future Business Leaders of America (FBLA), a national organization that allows students to develop business leadership skills, promotes professional and ethical conduct, and provides opportunities to demonstrate academic excellence. At DSU, PBL is part of the College of Business and Information Systems but is open to all majors. Dr. Yen-Ling Chang, professor of finance, is Talley's co-advisor.