DSU celebration honors aspiring young women
April 18, 2017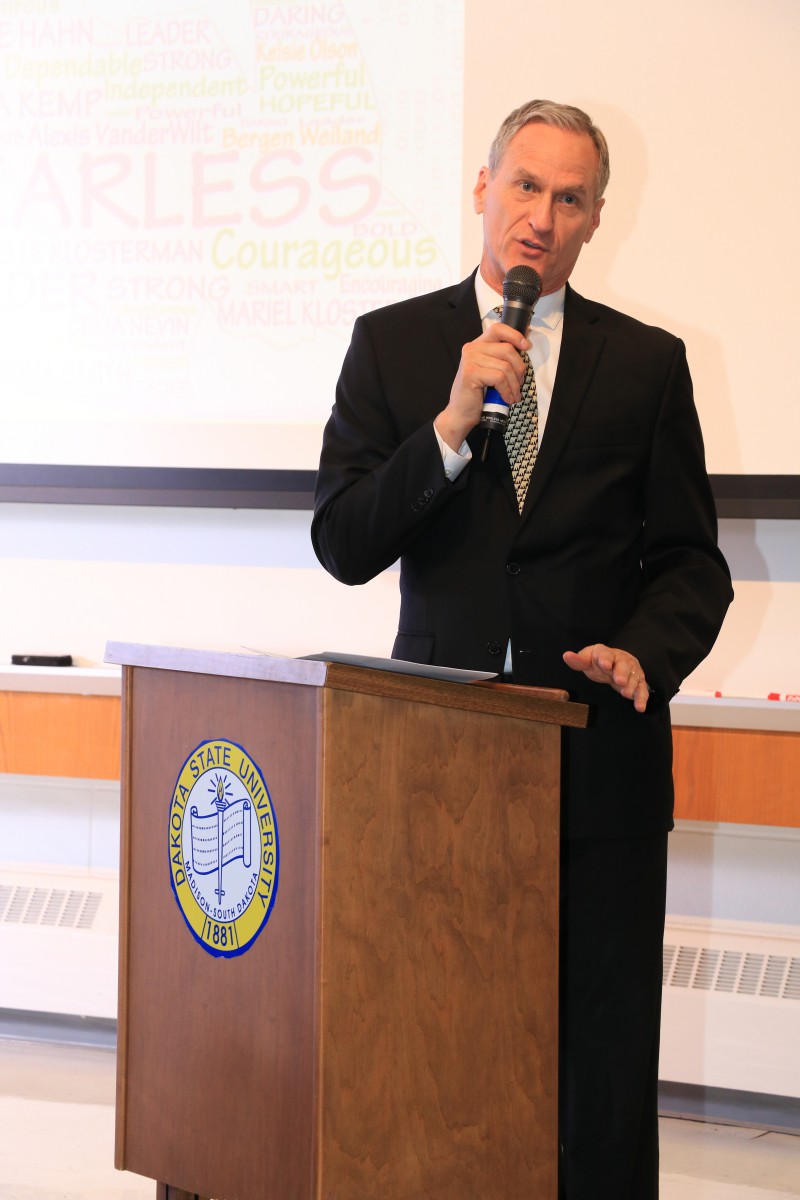 "Believe in yourself," is simple advice, yet it is sometimes hard to do, said South Dakota's governor Dennis Daugaard.
Daugaard was a special guest at Dakota State University for the 2017 NCWIT (National Center for Women in IT) Award Ceremony held on campus April 12. Seventeen young women from North and South Dakota and two South Dakota technology teachers were honored with the NCWIT Aspirations in Computing (AiC) award, a program designed to honor women for their computer-related achievements and interests.
"The biggest challenge we all have is believing that we can accomplish something when others doubt us and when we may doubt ourselves," Daugaard said.
He discussed how some people in today's culture may doubt that women can excel in technology fields and quoted some statistics about women in computing. In 2015, women held 57 percent of technical professional occupations, but only 25 percent of those were in computer occupations. Even fewer women were in other IT fields such as software development.
"This is where NCWIT comes in," he said. NCWIT, a non-profit organization chartered by the National Science Foundation in 2004, works with 900 organizations to increase meaningful participation of all women in computing, particularly innovation and development. 
Daugaard encouraged the young women to consider careers in computing, because "There is a need for more IT workers." He quoted U.S. Bureau of Labor and Statistics studies which project the number of IT/computer occupations to grow at a 12 percent rate through 2024, creating half a million new jobs in addition to current openings.
The work those future employees will do is important, he said. In 2016, there were 1.6 million attacks on state government, so "we need people like you to help defend our state, defend our businesses and our nation against attackers like this."
He also asked the girls to consider Dakota State for their academic degrees, calling the school a cyber leader in America. "It's an excellent institution of higher learning," he said.
"We want all of our students to experience the world as it's going to be through the use and application of emerging and available technologies -- a distinguishing feature of this institution," said DSU President José-Marie Griffiths.
Alexis Perez, an analyst with Facebook, was special guest at the ceremony, teaching the winners about Python coding. Presenters included the NCWIT Regional Program Director Ammi Ludwick, and Dakota State University faculty Dr. Ashley Podhradsky, Pam Rowland and Dr. Kyle Cronin.