DSU pumpkin project reaches fundraising goal
December 7, 2016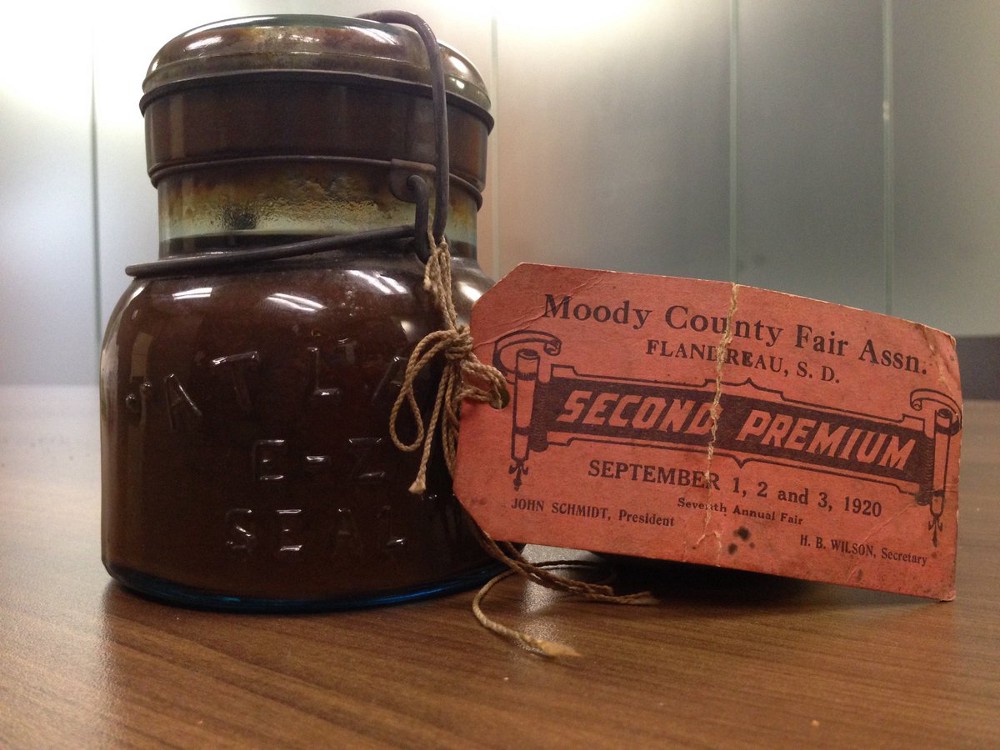 The Dakota State University preserved pumpkin science project is now fully funded. On Nov. 26, the group reached their goal of $6,000, plus $100 more.
The group of two professors and four students had been using crowdfunding on Experiment.com to be able to "do science" on a jar of preserved pumpkin from 1920 which was donated to the school by the Moody County Historical Society.
The group will be discussing their project on South Dakota Public Broadcasting's Dakota Midday:Innovations program on Friday, Dec. 9, at about 12:40 p.m.
This is a "one of its kind" project, said Dr. Michael Gaylor, assistant professor at DSU.
"[We] will be able to obtain unprecedented data on chemical compositions of foodstuffs and the atmosphere before the Great Depression," from the 96-year-old jar of fruit, says the project's site on Experiment.com.
The protocol for that analysis will also be unique. The professors have found no examples of research projects on preserved fruit and the air sealed inside an Atlas E-Z Seal jar.
So while the team waits for the pledges to be collected by the site, they are pricing equipment needed, strategizing, and doing some rudimentary experimentation on the analytical techniques they will use.
The gas-extraction procedures they are refining are being prepared for scientific papers, said Dr. Patrick Videau, assistant professor of biology at DSU.
Although the group has had 16 other jars donated, filled with fruit sealed in the 1950s, "We get one shot" with the 1920's jar, Gaylor said.
"You can't crack it [open] until you know what you're doing with it," Videau added.
SCIENCE FOR THE PUBLIC GOOD
Besides the science for science's sake, the pumpkin project "teaches the students how to use science for the public good," said Dr. Ben Jones, dean of arts and sciences at DSU, "and it's science that's directly related to the people who live around here," he added.
"Everybody can identify with Aunt Emma's pumpkin preserves."
While the general public may not understand the chemical or biological aspects of the project, or the scientific language used when the results will be presented, "they will understand the historical aspect, the agricultural aspect," he said.
As a public university, DSU is accountable to serving the greater good, Jones said, and through such a project, the high level of scholarship can be explained to a wider audience.
STUDENTS LEARN FUNDING
That audience, especially in this case, is also the audience that pays for that scholarship.
"When you work in this business, a lot of it is finding funds to support your science," Gaylor said.
While funding is available for mainstream topics such as cancer cures, the pumpkin project is something that would be considered an esoteric project, one with interest to a small number of people.
"But those esoteric projects often provide paying dividends," Gaylor said, so applied fund raising is something the students need to know if they plan to continue in scientific research, Jones added.
At most schools around the country, undergraduates aren't "exposed to that level of sophisticated or comprehensive understanding of how their science is really going to work," Jones said, "so the students are getting a good introduction to this."
These lessons are not lost on the students.
Student Vaille Swenson did not expect the project to turn into such "a big deal." With the crowdfunding and marketing through local media and radio, "It's expanded to something more," she noted, "integrating the community and the entire school."  She is majoring in physical science and biology for information systems.
Physical science major Lucas Leinen was also surprised at how in-depth the process has been. In fact, it is the exact opposite of what thought it would be.
Hope Juntunen, a physical science and biology for information systems major, said when they started fundraising this fall she did not expect it to be as difficult as it was to get to the goal. Instead of just working in lab, she ended up making phone calls to acquaintances to help reach the goal.
Despite these surprises, all the students are happy with the experience, agreeing that this project will help in their future science careers.
This project will be a "unique thing to make my [résumé] exceptional," said Juntunen, proving that "I'm more than just my GPA."
What makes this possible is the low teacher:student ratio at Dakota State, Jones said, which allows the faculty to work one to one with a promising science students.
That is a story that needs to be told about DSU, "that you can come [to Dakota State] and do great science as an undergraduate."
To advance similar opportunities for other students, Gaylor and Videau are now working on preparing grant proposals to submit to local foundations for an REU program (Research Experience for Undergraduate students).
This REU will "provide novel training experiences" for students, Gaylor said.
He credits the momentum from the novel pumpkin project as the reason they are able to take this further  step to hopefully build permanent programmatic culture changes in Dakota State's science department.
This will help stop the "brain drain," said Videau, and keep students in the state.
"We think this a valuable thing," Gaylor said, "to provide the opportunity for students to come in and work on these really frontier problems."