November 15, 2018
Dakota State University has again been listed as a top school in the nation for military students, according to the Military Times site Rebootcamp. In 2018, DSU ranked #32; for 2019, DSU is ranked #29 out of 137 four-year colleges.
This was no surprise to military students.
William Bulfer, a member of the South Dakota National Guard and first-year student from Madison, S.D., said that veteran affairs coordinator Austin Slaughter makes getting started in college "super easy." Slaughter, himself a member of the S.D. National Guard, "is the guy to go to with questions," Bulfer said, if students need academic assistance, or have questions on finances, planning, or benefits. "And the faculty are fantastic," Bulfer added.
Joe Spano, a Navy veteran and first-year student, said he began the transition process to civilian life about a year before he finished his time in the service. Spano, who saw five continents during his four years in the Navy, said going to college is his way to get back into the military. "I want to work in military intelligence. That's my dream."
A native of New Jersey, he was drawn to the new Cyber Leadership and Intelligence (CLI) program. By majoring in CLI, he is able to combine his interests in learning Russian with studies of international relations and cyber relations. "I'll have a broad skill set," he stated.
In addition to relevant programs of study and professional staff, the Madison area community provides support as well. Courtney VanZanten, the local veterans service officer, hosts a monthly coffee session on campus. This provides an opportunity for military students, veterans, or their families to come ask questions or learn from invited speakers. In November, the group was joined by Tony Grandy, a career readiness counselor with Citizen Soldier for Life, Marlene Erickson, a personal financial counselor who works with active military and guard members in South Dakota, and Bob Blom from the local American Legion Post 25. The university food service provider, Sodexo, provided coffee and cookies to show appreciation for their service.
University culture and student support are factors Rebootcamp considers when calculating the rankings. They also look at academic quality and outcomes, policies, costs and financial aid. These considerations are combined with federal data, and the resulting rankings become a source of information for service members transitioning out of the military.
The full ranking list can be found at https://charts.militarytimes.com/chart/9.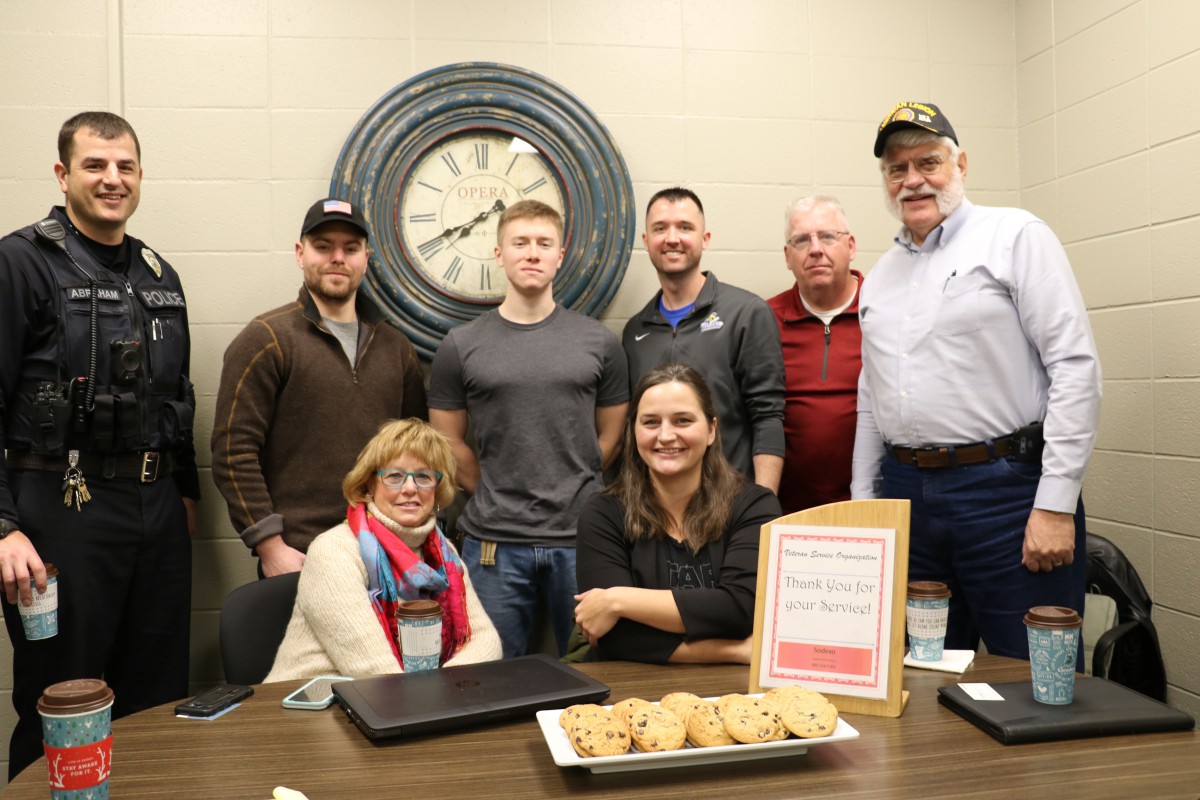 A monthly coffee is one of the ways DSU and the Madison community support military students. Attending the November coffee were: Safety Resource Officer Heath Abraham (back left), DSU students Joe Spano and William Bulfer, Veterans Affairs Coordinator Austin Slaughter, Tony Grandy with Citizen Soldier for Life, Bob Blom with the Lake County American Legion Post 25; Marlene Erickson, a personal financial counselor (front left), and Lake County Veterans Service Officer Courtney VanZanten.