DSU reports enrollment growth 18 out of last 20 years
September 20, 2018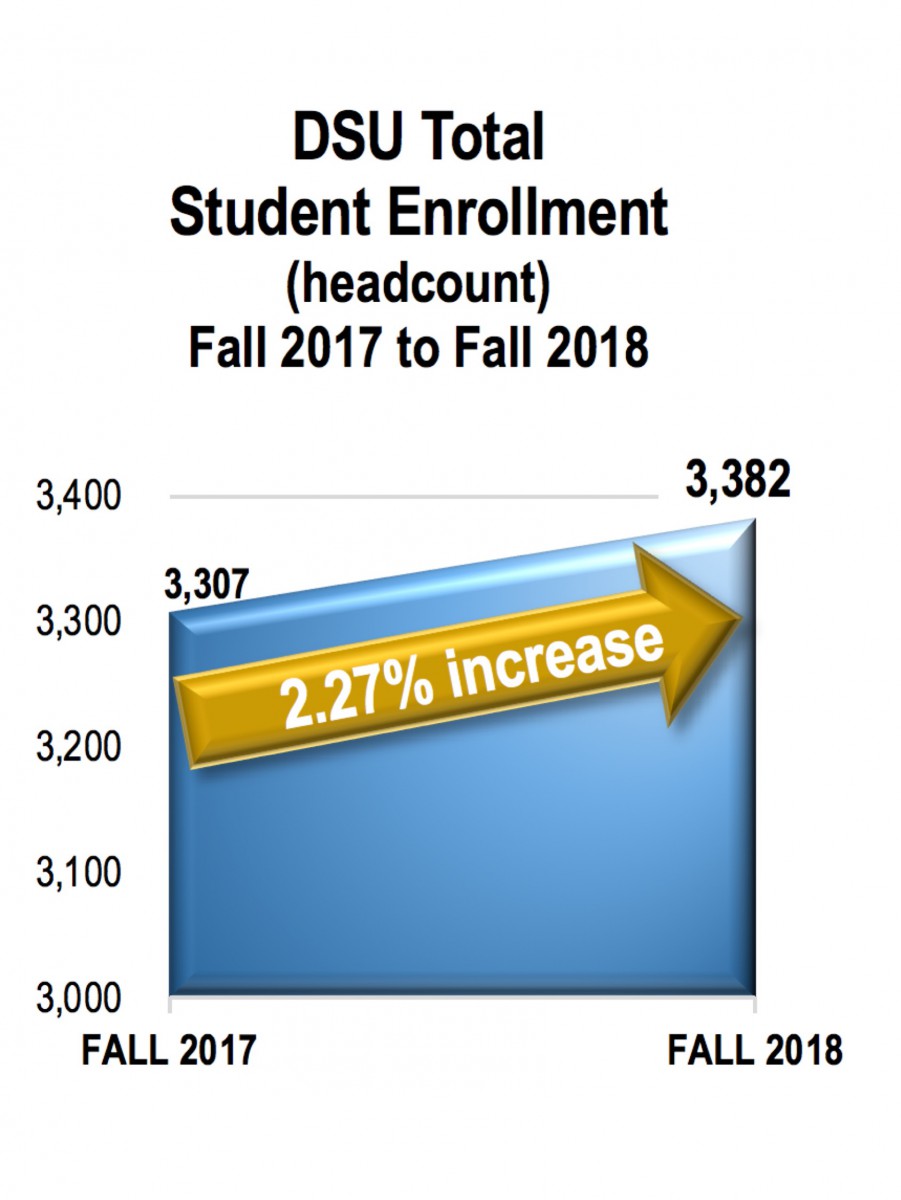 For 18 of the last 20 years, Dakota State University has been able to report increasing enrollment. This year is no different; total headcount enrollment for fall 2018 is up 2.27 percent, to 3,382 students.
This steady, measured growth indicates a strong future for the Madison institution.
"Dakota State University's growth is indicative of many strengths -- quality programs of study, highly trained faculty, supportive staff, and a motivated student body – all of which are built on the unique, technology-centric mission of DSU," said President José-Marie Griffiths.
The 2018 fall enrollment numbers, released by the South Dakota Board of Regents today (Sept. 20), show growth in several categories at DSU.
FTE students (a term based on total credit hours generated by all students) are up 2.42 percent. First-time student enrollment (not including transfer students) is up 6 percent. These 405 students make up the largest freshmen class in history. The number of South Dakota resident students is also up by 4 percent. The headcount of internet-only students and those who take a portion of their classes online both increased this fall. Roughly half of the students are on campus, half take classes only on the internet.
Much of the growth is in The Beacom College of Computer and Cyber Sciences. The 9 percent growth translates into 95 more students than fall of 2017; 40 percent of those 95 new students are women students studying the cyber sciences.
The largest increase for Fall 2018 is a 13 percent hike in graduate student enrollment over last year. Dakota State University offers two doctoral programs, seven master's programs, and five graduate certificates.
"We are no longer simply a small teacher's college on the prairie," said Griffiths. "Two decades of enrollment growth means our programs have grown and developed as well, through the efforts of our dedicated faculty and staff, and high-achieving students," Griffiths said.
Dr. Mark Hawkes, dean of graduate studies and research, said, "our graduate programs are highly desirable because of a strong faculty presence and a fast-growing DSU reputation for providing excellent graduate opportunities."
Griffiths stated: "This reputation will only continue to grow, with construction progressing on our new research and development building on campus, the Madison Cyber Labs." The building is slated to open in late summer 2019.