DSU students present at Sigma Tau Delta conference
December 13, 2017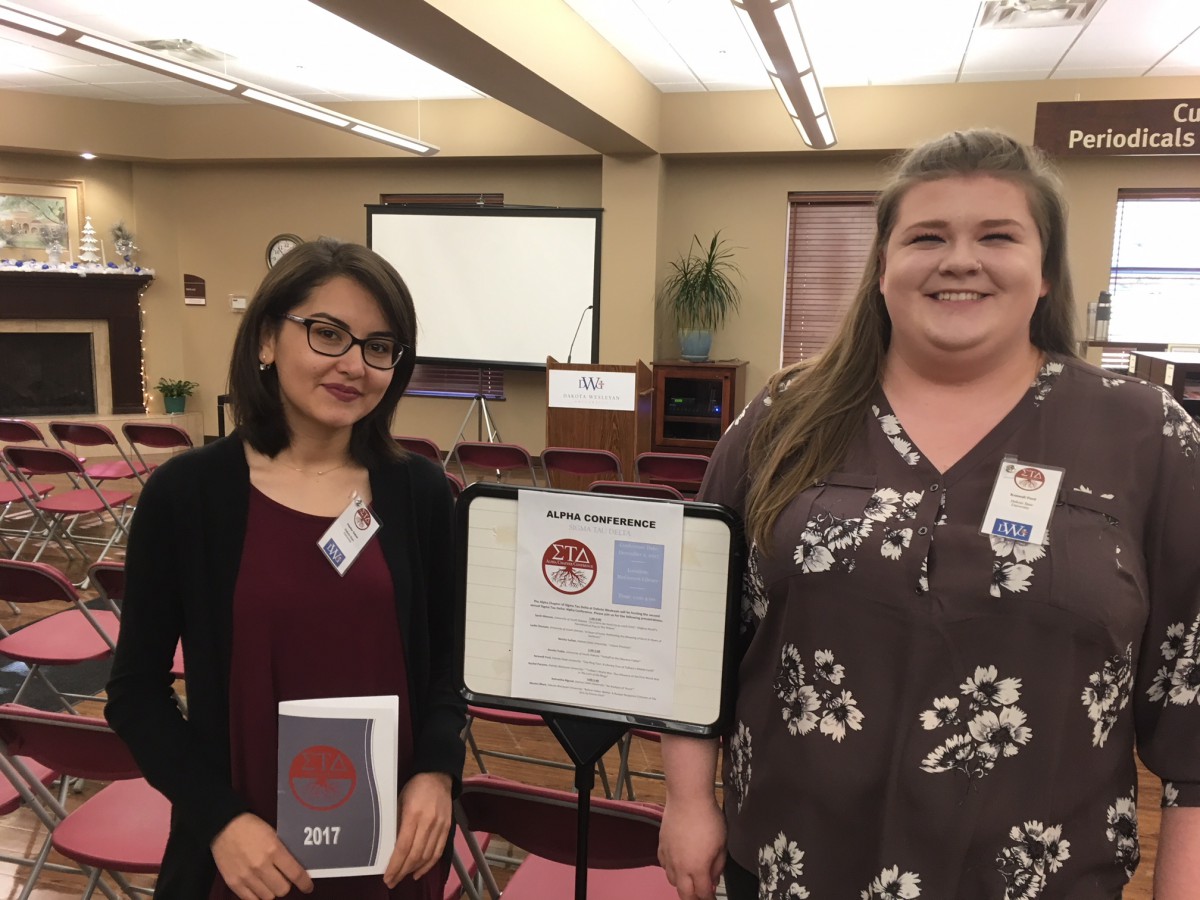 Three Dakota State University students were chosen to present their work at the second annual Sigma Tau Delta: Alpha Conference in Mitchell on Dec. 2. Sigma Tau Delta is an international honor society for college English majors.
Dr. John Nelson, professor of English at DSU, encouraged the students to "take the opportunity to pursue this outlet so their work is not isolated by the constraints of the classroom. Faculty did this for me when I was in school, and it made a difference for me," he said.
Preparing for and participating in the conference did make a difference for Kennedi Ford (right), Nelofar Sultan(left) and Samantha Algood.
Ford gained valuable experience speaking about a website she created, "One Ring Tour: A Literary Tour of Tolkien's Middle Earth." The senior English for New Media major from Redfield, S.D., has submitted a paper to an international conference coming up in March, and wanted some experience speaking in front of other undergraduate and graduate students.
"It was a good experience," Ford said, "I learned a lot about the process, and picked up some good pointers." She added that several of the graduate students were very engaged in the presentations. "It was nice to see people so passionate about their work."
Nelofar Sultan, a junior English for New Media major from Pakistan, was also impressed by the work at the conference. "By listening to presentations of other undergraduate and graduate students, I was introduced to the world of graduate level writing. To say the least, it was intimidating and exciting at the same time."
She wrote a paper titled "Almost Feminist," based on "Almost Famous Women," by Megan Bergman. "The conference was a great learning experience," she said, because "it gave me a better understanding of how academic conferences work."
Samantha Algood, an English for New Media major from Volga, S.D., was unable to attend the conference, but her presentation was accepted. "An Analysis of 'Kraut'" looked at the background and use of that derogatory word. To understand the word and its association with its German roots, she researched the history of the word, who used it, and why. Including visuals added diversity to the presentation, she said, and some of her references were tied to the entertainment industry, such as the 1960s TV sitcom "Hogan's Heroes" and the 2008 movie "Gran Torino."
Five other area students presented at the conference, hosted by Dakota Wesleyan in Mitchell, S.D. This is the first year DSU students participated.