November 29, 2016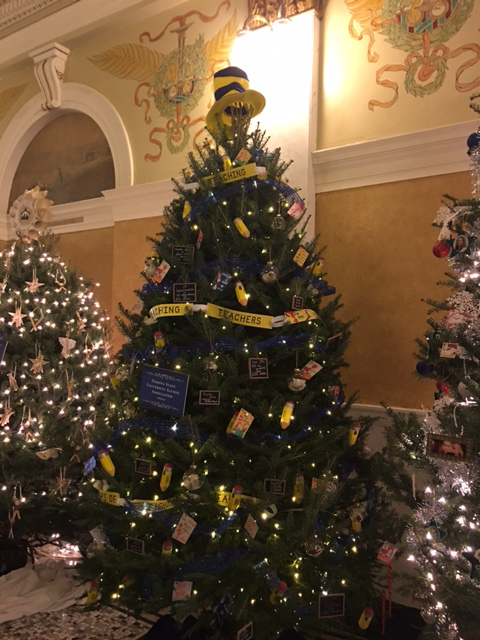 The 90-plus trees at this year's Christmas at the Capital are decorated to fit the theme of "A Monumental Christmas."
In keeping with that focus, Dakota State chose a pivotal moment in its history for their 2016 tree.
"We decided to use the monumental decision by the Dakota Territory legislature to establish a teacher training institute in Madison and build our decorations around DSU's 135 years of teaching teachers," said Alumni Affairs Director Jona Schmidt.
Dean of Education Dr. Crystal Pauli said, "The holidays are a perfect time to reflect on the impact teachers had on Dakota Territory and continue to have on South Dakota children and families."
A Dr. Seuss theme adds a bit of "whimsy" to the ornaments, Schmidt said, which include pencils and small books, but others capitalize on the teaching opportunity.
Small slate ornaments note facts about the program's history, that Dakota State has "Over 6,500 teacher alumni," in school districts across the state, and that "19 superintendents in SD school districts are DSU alums." Several graduates have won teaching awards, and coaches trained at DSU have set records.
 "There is a saying," Pauli said, that "'To teach is to touch a life forever,'" so she hopes that those who view the tree remember the teachers who touched their lives.
Faculty and staff at the College of Education are also looking forward to the next 135 years of preparing teachers at DSU by continuing to support "this heritage mission of DSU by preparing teachers who will educate the next generation and, by their example, inspire future teachers," Pauli added.
Current education students can look forward to "100% teaching placement," according to one slate.
This is the sixth year DSU has sponsored a tree during the 35 years of Christmas at the Capital.
The tree is sponsored by the Alumni Association, Schmidt said, with help from Events Planning Coordinator Donna Fawbush and the staff in the DSU Production Center, including Deb Pauley.