DSU theatre students competed in Kennedy Center Festival
February 6, 2017
Several Dakota State University students competed recently in the Kennedy Center Region V American College Theatre Festival in Des Moines, Iowa.
The theme for the Jan. 22-28 festival was "Great Plains – Great Plays," as Region V includes the Great Plains states of Iowa, Kansas, Minnesota, Missouri, Nebraska, North and South Dakota.
Kelly MacLeod, director of theater, said "DSU was well-represented," with students participating in the Irene Ryan Acting scholarship competition and the tech exposition.
Four students were nominated for their performances in DSU productions, said MacLeod, including: Landon Frederes, a cyber operations major from Sioux Falls, S.D.; Isaac Thooft; Timothy Cramer, a biology major from Maple Grove, Minn.; and Kenneth Olson, a production animation major from Okoboji, Iowa. They each performed two scenes and a monologue, and were then adjudicated by industry professionals or professors.
Each of these four could choose a partner to act with them at the festival, she added, so there were a total of eight students competing from DSU. The additional DSU students include: Nelly Burkitt, a film and cinematic arts major from St. Paul, Minn; Hannah May, a production animation major from Detroit, Mich.; Derrick Burkhardt, an accounting major from Sioux Falls, S.D.; and Samantha Nielsen, a graphics design major from St. Paul, Minn.
In total, between 350 and 400 students competed, MacLeod said, and the process included several rounds of competition until the field was narrowed down to two who will continue on to the national competition in Washington, D.C. One of those two was an actress from USD, she said.
Two DSU students also competed in the allied props category, Nielsen and Kaylea Chase, a respiratory care major from Crofton, Neb. They took the six-foot tall angel from the 2016 spring play "Look Homeward, Angel," by playwright Ketti Frings. Industry professionals critiqued the prop, its presentation, photo documentation of its creation, and the students' answers to questions, MacLeod said. This provided "good experience with presentation and the defense of a thesis." 
Two other students went along as drivers, Cole Peterson, a computer science major from Sioux Center, Iowa, and Ryan Wille, a marketing and information systems major from Truman, Minn. Both have acted in DSU productions in the past. Wille was impressed with the workshops, that actors from New York, Florida and California volunteered their time to come explain to students what to look for if they plan to act in those regions of the country.
DIVERSITY WORKSHOPS
As diversity coordinator for Region V, MacLeod also presented opening and closing speeches, and lead two workshops on diversity in film and theater. One workshop was intended for students, the other for faculty.
For the faculty workshop, discussion centered on how to put on a play that includes various races in a region that is predominantly one race; an example was Dakota State's 2016 fall production of "Big River," which included several black characters but was performed in a predominantly white area. There were about 30 participants in the student session, she said, where she and other faculty leaders discussed the issues of putting on a play that involves potentially objectionable content, such as some of the language in "Big River."
MacLeod is already planning for the 2018 festival, hoping to get others in the College of Arts and Sciences involved. She would like to reach out the English students for entries in the criticism writing division, and graphic design students for advertising posters and videos.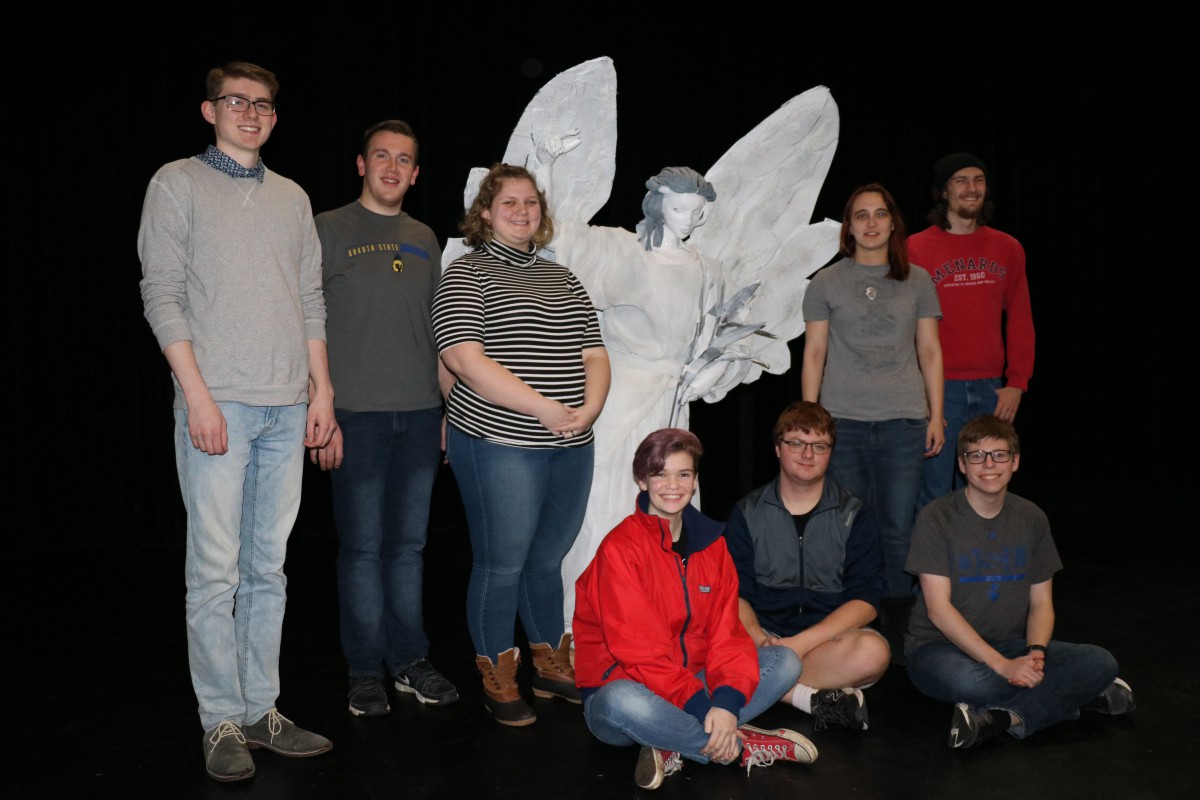 DSU thespians who traveled to Iowa in January for the Kennedy Center Region V Theatre Festival include Kenneth Olson (standing, back left), Ryan Wille, Nelly Burkitt, Samantha Nielsen, Timothy Cramer; Hannah May (front, left), Derrick Burkhardt, and Cole Peterson. Not pictured are: Kaylea Chase, Isaac Thooft, Landon Frederes.