December 11, 2014
Grace Estridge, a DSU Biology major and Chemistry minor, has been awarded a prestigious undergraduate environmental research fellowship in the amount of $50,000 by the United States Environmental Protection Agency's National Center for Environmental Research (Office of Research and Development).
The fellowship award was based upon several academic achievement metrics, including her development of a highly interdisciplinary environmental research proposal entitled "Characterization of changes in gut microbial community structure in soil invertebrates exposed to pesticides and contaminated wastewater residues under laboratory and field conditions." The award will support all aspects of Estridge's academic and scholarly development for the next two years, inclusive of all tuition and significant research and living expenses. As an EPA Research Fellow, Grace will also immerse herself in an intensive 10-week summer research program at one of EPA's national research laboratories.
Estridge's research will examine the changes that occur in bacterial populations that live naturally in the guts of soil organisms exposed to agrochemicals and sewage sludge residues commonly applied to agricultural soils in the region. She hypothesizes that bacterial community interactions within the guts of ecologically critical soil organisms, such as earthworms and crickets, are disrupted when they are exposed to these materials. She further hypothesizes that such disruptions can actually be used as predictive indicators of the overall health of agrochemical- and sludge-impacted soil ecosystems.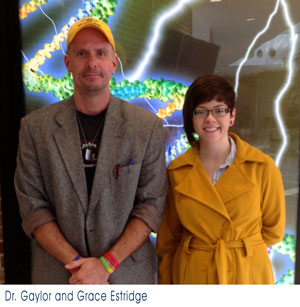 Large-scale agrochemical usage in the region is well-known. But, the growing practice of land applying sewage sludge is less obvious. At present, the U.S. population generates eight million tons of sewage sludge annually, about 65% of which is now applied directly to agricultural and public lands as the primary disposal method. Though sludge residues contain recycled nutrients essential for soil enrichment and plant growth, they also contain extremely complex mixtures of chemical contaminants that, when land applied, pose unknown toxicological risks to exposed soil organisms and even entire ecosystems.
Surprisingly, very few scientific studies have examined the impacts of sustained agrochemical usage on soil ecosystems of the Dakotas, and there seems to be no published studies that have assessed the ecological impacts of applying sewage sludge to these sensitive ecosystems. Estridges's research thus aims to provide much-needed scientific data on the ecological risks associated with agrochemical- and sewage sludge-intensive agricultural practices within the region.
"Getting an award like this is a career changer for me," said Estridge. "However, I am not doing this alone and I can't stress enough the gratitude that I owe to my professors in the science faculty here at DSU. That especially concerns my mentors Dr. Donna Hazelwood and Dr. Michael Gaylor. Without their support and enthusiasm, applying to a prestigious fellowship program would not have seemed like an option for me."
"We are thrilled that one of our science students has earned such a national distinction, as this is a first of its kind for our science programs," said Estridge's fellowship research advisor and DSU chemistry professor, Dr. Michael Gaylor. "In addition to the obvious benefits for Grace's academic and professional development, this award is gratifying validation of the tireless efforts of our science faculty to inspire our students to exotic destinations of intellectual, academic and professional achievement that they never imagined they could go. As Grace's research is very much at the cutting edge of human understanding within this complex realm of scientific inquiry, this is a significant leap forward in our sustained efforts to build a nationally recognized culture of frontier undergraduate scientific research here at DSU. This is indeed a very exciting time for our science programs."