February 22, 2016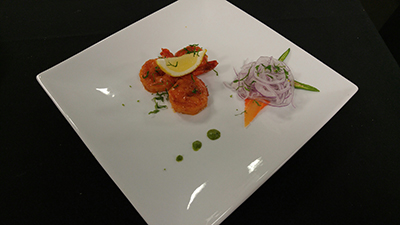 Dakota State University's dining service provider, Sodexo, has invited Executive Chef Karl Benjamin to bring the taste of India to DSU through their Global Chef program. On Tuesday, March 1, 2016, from 11 a.m. to 1 p.m. in the Trojan Center Marketplace, the all-you-can-eat $7 meal is available to all DSU and Madison area community members.
Global Chef is a month-long international Chef residency that provides an opportunity for the Sodexo top chefs worldwide to travel to different countries and share authentic international cuisine with customers, staff and local Sodexo dining teams. One of those being Chef Karl. He is a highly skilled professional with twenty two years of hands-on experience in the culinary field, and began his professional career in 1994 and gained experience from around the world. His expertise lay in all the facets of food planning, execution, and culinary knowledge of different cuisines. He is renowned for his cooking shows broadcasted on South Indian television.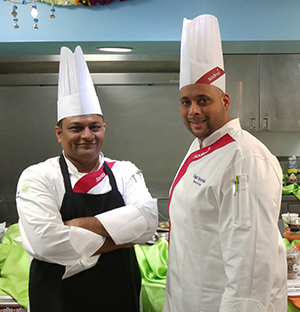 Chef Edgar, DSU's Sodexo Executive Chef, recently spent two days training with Chef Karl in Indian Cuisine. This training will allow the DSU food service vendor to expand their menu offerings on campus and also with their catering service to include the Indian food options.
Not only will Chef Karl be visiting DSU, he will also have the opportunity to learn about Midwest agriculture and experience the farm-to-table thinking. He will visit Johnson Farms, which is an organic farm operating south of Madison, S.D., and participate in feeding the cattle, riding in the tractor and picking eggs. The Chef will also visit the John Green art studio in Madison.
In addition, Chef Karl with hold a cooking demonstration at 4 p.m. at the Marketplace in the Trojan Center on Tuesday, March 1, 2016. If you have any questions about any of the events, please contact Gayle at 605-256-5105.