From talking like a pirate to teaching like one
September 17, 2018
While people utter 'aargh' and phrases like 'shiver me timbers,' in celebration of Talk Like a Pirate Day on Wednesday, Sept. 19, some Dakota State University elementary education students are learning to teach like a pirate.
The students read the book "Teach Like a Pirate," by Dave Burgess, which focuses on the word "Pirate," an acronym Burgess created for using the concepts of Passion, Immersion, Rapport, Ask & Analyze and Enthusiasm in the classroom.
Dan Klumper first read the book about five years ago when he was teaching sixth grade at Brandon Valley Middle School. He found it very beneficial in giving him focus on what he should be doing as a teacher.
"I think it's a book every teacher should read," Klumper said, "whether you're a veteran teacher or an in-training teacher."
Klumper found the book so compelling that when he began his position as an instructor of social science pedagogy at DSU three years ago he knew he had to have it as his course text. Students take ELED 360 "K-8 Social Science Methods," just before they student teach, so it is a perfect time for them to read the book, he stated.
He also incorporates related activities into the course curriculum. On Sept. 12, his students participated in a debate to argue which concept in Pirate was the most important. Groups were given a letter from the acronym, and each group argued in favor of the word they received. Klumper decided to use a bracket method, similar to a sports bracket, to encourage discussion about the book.
Ask & Analyze was chosen as the winner through classroom voting, however the students acknowledged the importance of all letters in Pirate.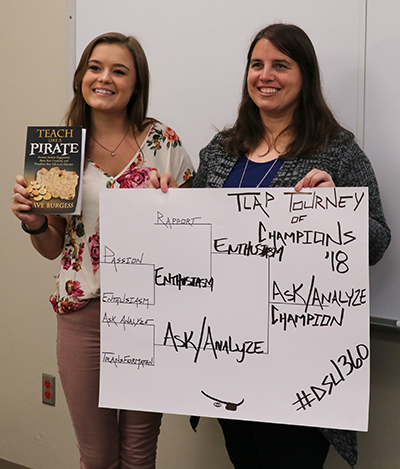 Amy Halling (right) and Brianna Veldkamp, the duo who successfully argued the importance of Ask & Analyze, believe they learned many beneficial lessons from the book and the debate that took place in class.
Veldkamp is looking forward to utilizing the Pirate way of teaching in her future classroom.
"I think I'll implement every single letter," she said, "I don't think it's just one letter."
The book taught Halling how important it is to always make the classroom a place where kids want to be, either through inspiring enthusiasm in the classroom or finding passion as a teacher.
Halling intends to revisit the book each year, upon advice from Klumper, who recommends teachers read the first three or four chapters every year before the start of the school.
Klumper's personal opinion is that "R," for rapport, is the most important concept. "If you don't have rapport you can't be successful," he said. "It's how you really influence the students."
Klumper hopes that talking like a pirate will benefit his students as they prepare to become teachers by helping mold their teaching style.
"I hope they gain a lot of confidence in themselves and their ability to be a teacher "by gaining the mindset of going out into the school and focusing on building relationships with kids," Klumper said, "and being a passionate and enthusiastic educator."