Gamification helps train future teachers
February 12, 2019
Kings, queens, dragons, and a fight for the throne may sound like a popular television show, but in Dakota State University's ELED 360 "K-8 Social Science Methods," a medieval world called Realm of Dragons is teaching students about gamification in the classroom.
"Gamification is taking something that's not a game and using game mechanics to make it into a game," said Dan Klumper, instructor of social science pedagogy.
Some real-world gamification examples are the point systems on credit cards that earn users points or airline miles, and badges earned through fitness apps.
Klumper first learned about gamification when he was teaching middle school at Brandon Valley, and integrated it into his sixth-grade social studies class. He began using gamification immediately when he joined DSU three years ago. He created Realm of Dragons, a game where students divide into groups called houses, and these houses vie for the throne.
In addition to creating the world, Klumper recently published a book to accompany the class activities that details the history of the realm and how it landed in chaos.
"If you add gamification into the classroom you can offer a unique learning experience, especially for kids who aren't really engaged in the school process," he said.
Klumper believes that having the college students learn through participating in gamification in the classroom will offer more of a lasting impact than just giving a gamification presentation.
ELED 360 students can film videos reviewing social studies standards, make maps, write papers, volunteer with K-8 students, and collect postcards from around the United States and the world to earn points.
In the Realm of Dragons, students are required to complete a minimum number of learning-based tasks that earn them points to purchase items to assist them in their efforts to claim the throne. The items are physical objects like cards, army men, and unicorns.
The items purchased help students build their army for the culminating event, Battle of Agincourt, a Risk-style review game.
Taylor Martens, a junior elementary education major from Wentworth, S.D., is currently a student participating in the Realm of Dragons as a member of House Sunspear.
After participating in Realm of Dragons herself, Martens now knows how students might feel when participating in the gamification of a class.
"Gamification gives students the opportunity to be engaged," Martens said, "and it doesn't feel as much like homework even though you're still learning."
So far Martens' favorite part of the Realm of Dragons has been the postcard challenge. The challenge, which Klumper included in the Realm of Dragons, is a way to teach students about different areas of the world and something his students have gone on to do in their own classrooms.
Students in Klumper's class are currently asking people to send postcards with an interesting fact about where they live. Each student is requesting postcards, which will go toward their house's total number of postcards. The house with the most points by April 21, will win the challenge.
The students will go on to compete in the Battle of Agincourt with their houses on Wednesday, April 24.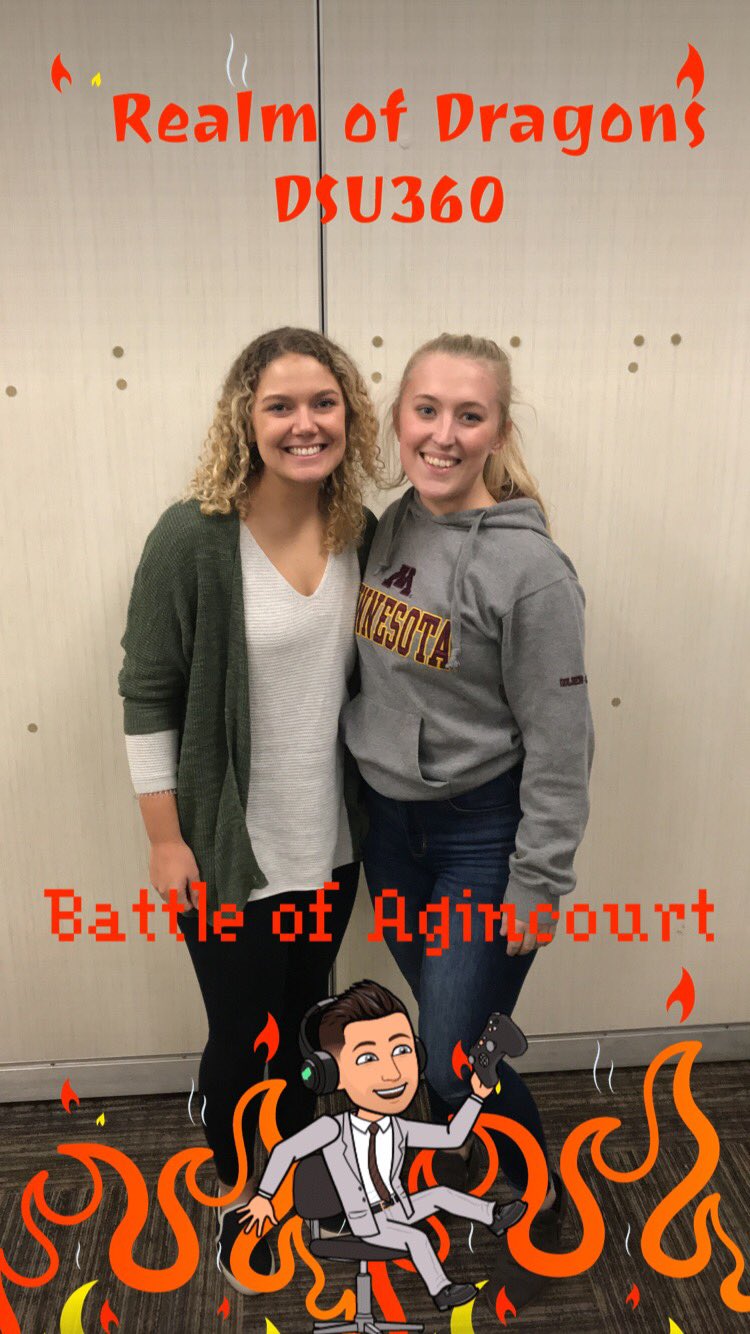 House Dragonstone, Reanna Fitzgerald and Kasey Randall, won the Battle of Agincourt for the Fall 2018 semester.