January 13, 2016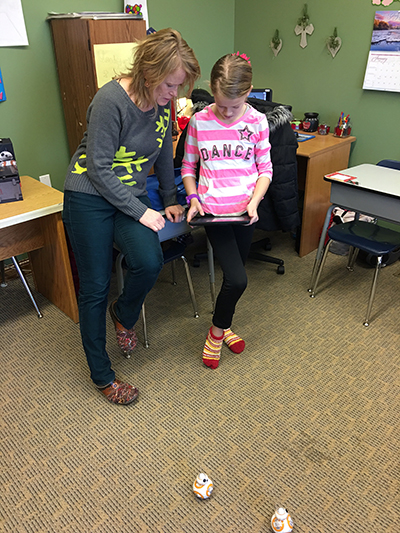 Dakota State University faculty, Pam Rowland and Dr. Ashley Podhradsky, kicked off their FEMSTEM AAUW grant program and visited a local school to teach girls how to code.
"Understanding the linear logic of programming and sequencing is the foundation to ensuring girls can learn how easy it is to code," Podhradsky stated.
"Being able to learn on fun technology like the Star Wars BB8 helps the girls realize how cool programming can be," added Rowland.
The demo wrapped up with an introduction to The Hour of Code created by code.org.
The classroom visits are sponsored by the AAUW and are intended to introduce the girls to programming and cybersecurity while also promoting their GenCyber: Girls in CyberSecurity camp. The camp is free for rising 7th-9th grade girls and will be at DSU June 20-24th.  More information on the camp can be found at www.gencybergirls.camp. Registration is filling up fast!