Heather Wilson speaks at Gencyber camp
June 1, 2018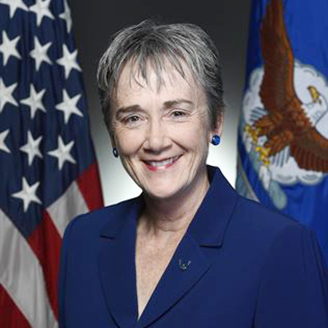 On June 26, Secretary of the U.S. Air Force Heather Wilson will be on the campus of Dakota State University to deliver a speech to the 125 middle school age girls attending GenCyber Girls camp. Media is invited to attend; the event is also open to the public, as space allows.
"Women have an incredible history in cybersecurity, but their contributions have not always been known," said Dr. Ashley Podhradsky, camp co-director and associate professor of information assurance at DSU. "It is imperative to introduce the girls to positive role models who have achieved incredible success to inspire the girls to continue their pursuit of this field," she stated.
Wilson was confirmed as secretary of the U.S. Air Force in 2017. She served as president of the South Dakota School of Mines and Technology for four years, and for 11 years represented her home state of New Mexico in the U.S. House of Representatives.
Also on June 26, Diane Janosek, deputy commandant of the National Security Agency, will be attending camp.
EVENT DETAILS
Who: Heather Wilson, secretary of the U.S. Air Force
What: Speech to 125 middle school girls attending DSU's GenCyber Girls camp
Where: Dakota State University, Madison, S.D., Tunheim Classroom Building auditorium
When: Tuesday, June 26 at 1:00 p.m.
Why: To inspire girls interested in cyber sciences
Who Is Invited: GenCyber girls campers will have first priority for seating; media representatives and the public are also invited to attend.
Contact: Jane Utecht, strategic communications coordinator, if media representatives plan to attend, or for more information.