September 14, 2017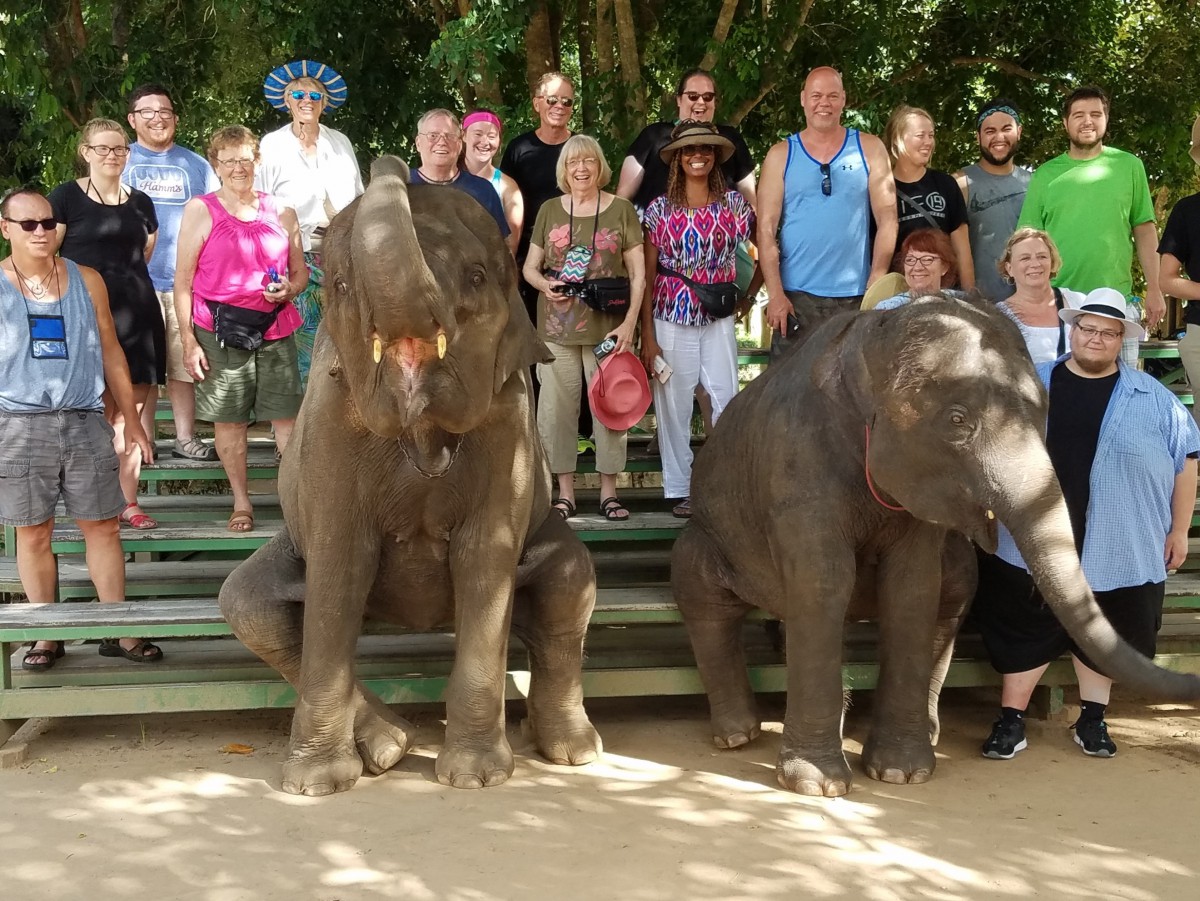 Nineteen travelers from Dakota State University took a "phenomenal" summer vacation to Indochina, said trip organizer Dr. Deb Tech, associate professor in the College of Business and Information Systems.
It was difficult to name a favorite part of the 14-day trip to Vietnam, Cambodia and Thailand, said traveler Ruben Zacarias.
Zacarias is a 2016 graduate of DSU, with a degree in network and security administration; he is currently working on his master's degree in information systems.
"There were many parts of the trips that were my favorite," he said, "like the Vietnam War Museum, the Buddhist temples, the ancient tombs of Cambodia," but Vietnam's Ha Long Bay stood out to the Spearfish, S.D. native.
This area of 1,600 islands in the northeast part of Vietnam is listed as a world heritage site of United Nations Educational, Scientific and Cultural Organization (UNESCO) because of its biological interest, and the scenic beauty of its limestone features. Movie-goers may recognize these from the 2017 movie "Kong: Skull Island." Another movie location the group visited was the Cambodian Angkor Wat site where "Lara Croft: Tomb Raider" was filmed.
"Ha Long Bay had some of the best views one could have hoped for. The islands are only accessible by boat so we ended up staying on the boat for a night to catch a gorgeous sunset and sunrise," Zacarias said.
There were also man-made scenes that impressed the travelers. "Everyone has a scooter," in the three countries, Tech said, with the driver often taking along several passengers. "We have a picture of seven people on one scooter," she said.
Crossing the busy streets was "a bit of a challenge," she pointed out. In Saigon, there are only a couple of stop lights, and traffic comes from all directions. "You almost feel like a crash could happen at any moment," Zacarias said, but "the Vietnamese are accustomed to it…so that it seems effortless."
The DSU travelers grew accustomed to it as well. In Saigon, "to cross the street you just walk out with your hand up," Tech said. In Thailand, it was the opposite. "You run when you have the chance."
The group also adapted to the language differences. "You learn to understand a foreign language even if you don't know a single word," Zacarias said. "You can get an idea and communicate with gestures more efficiently."
Of the three counties, Vietnam in particular was "a very welcoming country, and everyone was appreciative of tourism dollars," Tech said. They hope to build their tourism industries, so she recommended "If you want to see the quaintness of Vietnam as it is, go now."
The 19 who made the trip this past July were DSU faculty, students, alumni and friends who ranged in age from their 20s to their 80s. The younger people helped the older ones, and the older people provided insight as experienced travelers, Tech said.
No matter their age, "people want to have fun and experience new adventures," Zacarias said. "I couldn't have hoped for a better group, in all honesty. During this trip, I have met new lifetime friends that made the experiences in these countries even more unforgettable."
Tech will be hosting a presentation about the trip on Wednesday, September 20, from 5:15 to 6 p.m. in Room 117 of the Beacom Institute of Technology on the DSU campus. The community is welcome to attend.
DSU's next trip is planned for the winter of 2018-2019, to see the Northern Lights in Iceland.