Koepsell to be DSU communications, marketing director
May 31, 2018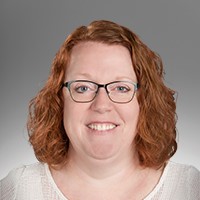 Kelli Koepsell has been hired as communications and marketing director at Dakota State University.
This will be a familiar role for Koepsell, who was DSU's director of public relations and marketing from 1994-2003. For the past 15 years, she has held a variety of roles with Sanford Health's marketing department, most recently as director of service line marketing.
Koepsell is happy to be coming back to her first professional home. "I am thrilled to be returning to Dakota State," she said. "This is an amazing time to be a part of this university as it continues to grow and provide top-notch educational opportunities."
Koepsell and her husband, Chad, reside in Canova, S.D. They have three children: Ceri Klopp resides in Texas with her husband Alex; Carolyn and Cayla are college students.
She will begin her duties at Dakota State on June 12.