New residence hall plans to move forward at Dakota State
April 4, 2019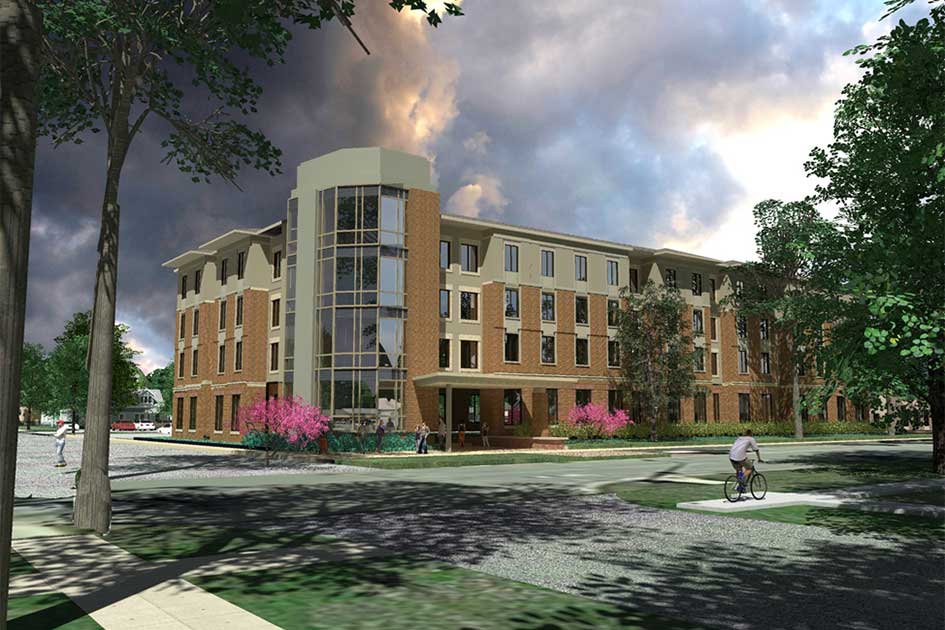 Dakota State University has moved one step closer to providing students with a new place to call "home" in the fall of 2021. 
The Board of Regents approved the initial facility program plan on April 3, and the university will move forward with plans and designs for Residence Village, an estimated 120-bed residence hall. This will be in addition to eight other residence options on or near the Madison campus. 
Residence Village is currently planned as a three-story, 40,000-square foot structure, designed with suite-style and apartment-style units. The building will also include community study areas, lounges, laundry facilities, administrative offices, and a residence director apartment. The proposed location is at the corner of Washington Avenue and NE 9th Street, currently a parking lot just north of the Courtyard, the university's residence hall which opened in 2017.
"This facility will help to meet our strong enrollment growth as well as provide the features and amenities that students desire," said Jim Jacobsen, interim vice president for Student Affairs.
"We surveyed our student body to get their input on the design and features that are important to them," said Jacobsen, features such as  suite and apartment-style layouts, instead of the traditional double-occupancy rooms in the majority of DSU's residence halls  In Residence Village, there will be a mix of 4-bedroom suites and 6-bedroom apartments, and all bedrooms will be single occupancy.
"This new residence hall will not only house our students, its new design style will enhance their living and learning experiences."
DSU President José-Marie Griffiths.
"It will also help us recruit high-achieving student scholars, and strengthen their connections to the university." The new facility will invigorate and build momentum around the university's initiatives, she added. 
Design development will take place throughout the summer of 2019, construction documents will be completed by the end of 2019 and the bidding process to begin shortly thereafter. Actual construction would begin in the spring of 2020, with a proposed opening date for the fall of 2021. 
Construction costs for the building are estimated at $7.6 million, with an additional $3.1 in soft costs (architectural and engineering fees, furniture, etc.) and financing costs. Construction funding will come from revenue bonds.
The board also approved a name change for another living space near campus, recently purchased from St. Thomas Aquinas Church. The facility, located at 321 N. Van Eps Avenue in Madison, will be called Van Eps Place.