NSA leader is DSU's spring commencement speaker
April 26, 2019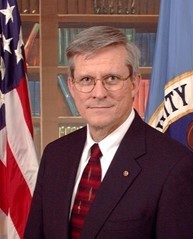 The professional work of the Dakota State University Spring commencement speaker, Dr. Leonard T. Reinsfelder, has had a great influence on the university.
Reinsfelder retired in December 2018 as commandant of The National Cryptologic School at the National Security Agency (NSA). His work with the agency has been a driving force behind DSU's growth, not only in student headcount but also with national recognition.
During his tenure, the NSA created articulation agreements with U.S. universities and colleges to allow NSA employees to earn academic credit for educational courses completed as part of their employment. DSU and the NSA signed the first such articulation agreement in 2015 for undergraduate students studying cyber operations at DSU. A year later, the agreement was extended for master's students in computer science.
Reinsfelder initiated the NSA's Cyber Operations Centers of Academic Excellence Program, and DSU was designated as part of the first cohort of four institutions in the nation in 2012. DSU's undergraduate cyber operations program is the largest program at DSU with over 460 students.
He also supported the creation of GenCyber Summer Camps in 2014, which were instituted to raise the interest level of high school students in cybersecurity educational paths and careers. DSU was part of the first cohort of eight universities. By the end of summer 2019, DSU's GenCyber Summer Camps will have hosted nearly 2,000 middle school and high school students on the Madison campus, and are the largest residential camps in the nation.
Reinsfelder has dedicated 36 years to public service, 20 years in operational assignments, and 16 years at the National Cryptologic School leading education efforts. Because of these contributions to cybersecurity, he will be awarded an honorary Doctor of Science degree at the May 4 commencement.
An alumnus of Loyola College of Baltimore, and Catholic University of America, he has earned several awards during his time at the NSA, including Meritorious Executive Presidential Rank Award in 2017, Equality Award in 2015, and ODNI Individual and Team Awards in 2012.
He and his wife, Phyllis, live in Hanover, Penn. They have three adult children and two grandchildren.
DISTINGUISHED ALUMNUS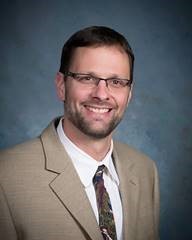 Steve Rokusek, education specialist with the South Dakota Public Broadcasting (SDPB), is the 2019 Distinguished Alumnus.
Known as Science Steve, the Tyndall, S.D. native has been an active and award-winning science teacher, in the classroom and currently with SDPB. He has taught physics, physical science, anatomy, biology, and earth science, and has received the Golden Apple Award for Teachers, multiple Who's Who Among Teachers awards, the Archdiocese of Omaha Teacher of the Year Award, a Regional Emmy Nomination, and is the recipient of the 2016 SoSoDakSACA SACCY Award. He is also the recipient of the 2019 South Dakota Science Teachers Association Friend of Science Award for his service to the advancement of science education in South Dakota.  
With SDPB since 2004, Rokusek develops resource materials for specific content areas for in-service school workshops, education conferences across the state, and for special events, such as the 2018 Space Day at DSU. He also creates a weekly electronic education newsletter for teachers and parents.
Rokusek graduated from DSU in 1997 with a degree in biology and computer education.
COMMENCEMENT DETAILS
The 2019 Spring Commencement will be held May 4 at 10:30 a.m. in the Dakota State University Fieldhouse. Of the 358 graduates, 34 will receive associate degrees, 255 have earned baccalaureate degrees, 72 will receive master's degrees and 11 will have earned doctoral degrees. A master's hooding investiture is planned for graduate students prior to commencement, at 9 a.m. at Dakota Prairie Playhouse.
Samantha Beinlich, computer game design major from Mitchell, S.D., will speak on behalf of the graduates; Aaron Klimes, the DSU Alumni Association President and a 2011 graduate of DSU, will induct the new graduates into the Alumni Association.
DSU Voices will provide musical selections, including an original song called "Make It Last," written by six members of the group.  Musical selections are under the direction of Sandy Champion, DSU music director.
Community members and faculty are also taking part. Bruce Feistner, director of respiratory care in the College of Arts & Sciences, will be mace bearer. He is retiring after more than 38 years at Dakota State. Members of the Madison Police Department and Lake County Sheriff's Office will present the flags.