Practical applications mean STEM research is critical
April 2, 2019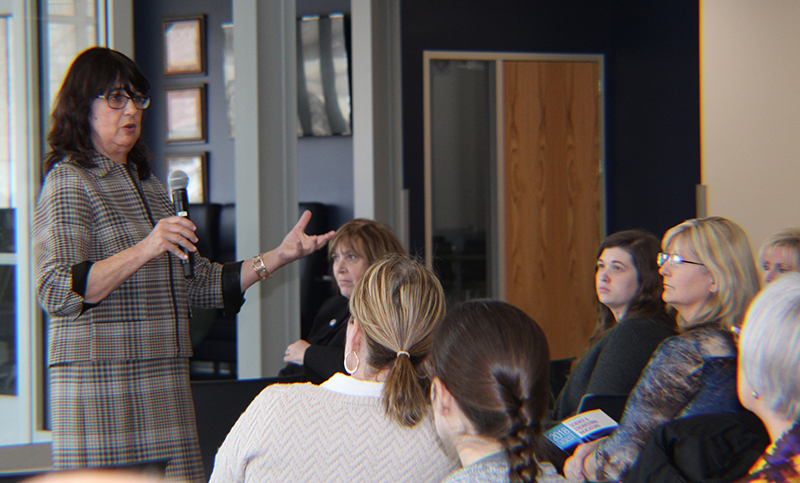 There are connections between research results and the real-world, said the chairperson of the National Science Board (NSB) Dr. Diane Souvaine. The NSB is the governing body of the National Science Foundation (NSF).
"This [connection] is why NSF's role in funding basic research in all areas of science and engineering is critical, even when the applications are not yet obvious," she told an audience of about 60 people who attended her keynote address on March 28 at Dakota State University. The speech was part of the university's annual Research Symposium, a three-day event highlighting research at the institution.
While there are few areas where Americans come together, she stated, one of those areas is science and technology.
"Congress still strongly supports federal investment in fundamental science and technology, and Congress and the Trump administration are deeply interested in maintaining U.S. leadership in science and engineering," she said, by bolstering key areas including artificial intelligence, cyber security, quantum information science, and a strong STEM-capable U.S. workforce.
"We need to grow our country's STEM capacity," Souvaine said, "and we need to tap into all segments of our population in order to meet this goal." She noted educational programs across the nation which engage diverse people in science and technology, such as those at Dakota State. "Somehow we need to pull them all together for a broader outreach, for growth across the country." 
There are societal impacts of research to be considered, in frontier research areas such as artificial intelligence (AI), and what that means for the workforce.
"This is why the board is so adamant about our directorate for societal, behavioral, and economic sciences," Souvaine said. While there may be some job losses due to new technologies, there will also be new jobs which will require more science and technology knowhow than the one lost. Research into those impacts is essential, she stated, because these need to be understood.
"We can't go charging ahead so fast with AI that there are things built into the [systems that] will themselves affect society in ways we don't really understand," she said.
The NSB holds listening sessions across the country to gain input on topics such as the nation's skilled technical workforce, and on research visions. One such session was held on campus March 27 with invited members of the region's academic and business communities. 
"I applaud you all and DSU for its glowing research footprint," Souvaine said. "In this era, we truly need all hands on deck, working together to contribute to the fabric of knowledge and innovation."
She stated, "your knowledge creation will help fuel the nation's economy, security and competitiveness and empower successive generations to lead, happy, healthy and fulfilling lives."
Souvaine and DSU President Dr. José-Marie Griffiths had previously served together on the NSB, which has 24 members appointed by the president, serving on rotating six-year terms. Souvaine is also a professor of computer science at Tufts University in Boston, Mass.
The NSF is an independent federal agency that was created in 1950; its mission is to promote the progress of science, advance the national health and prosperity, and ensure the national defense. In 2019, Congress authorized a budget of over $8 billion for the agency.