Programmers take top spots at Digi-Key competition
October 29, 2018
Practice and hard work are key to success, at least for the competitive programming teams at Dakota State University.
Two, four-member teams of juniors and seniors from Dakota State University's Programming Club traveled to Thief River Falls, Minn. to compete in the Digi-Key Collegiate Computing Competition VERSION 2.0.18 on October 19.
Digi-Key, an electronics components supplier in Thief River Falls, has hosted this tournament since 2000. DSU has participated for over 10 years, said the teams' advisor, Dr. Austin O'Brien, but has never placed higher than fourth. This year, one DSU team took first place, another took third. O'Brien is an assistant professor of computer science in The Beacom College of Computer and Cyber Sciences.
No one on either team had participated in this competition previously, so the students worked hard on the practice problems provided by Digi-Key. "This gave them an idea of what to expect," O'Brien said, "and that was the deciding factor that prepared them to do so well in the competition."
The winning students personally received Amazon gift cards, but they also earned prize money for The Beacom College. The first-place team won $5,000 for the department; the third-place team earned $1,000. A check presentation will be held at a later date.
During the 60- to 90-minute sessions in short programming, long programming and word problems, "we had to solve it fast and make it work," said Alex Van Keulen, a computer science senior from Ghent, Minn.
Solving the challenges took "a lot of trust," between the team members, said Collin Rumpca, computer science junior from Aberdeen, S.D. Digi-Key provided one computer per team, so three students wrote code by hand, and explained it line by line to the designated team typist. This also took communication, which "had to be effective to execute our ideas," said Khoi Nguyen, a senior computer science major from Vietnam.
Brendan Hansen found that teamwork was huge when putting together ideas to solve the problems. "That's a soft skill that is definitely used and built upon," said the junior computer science major from Sioux Falls, S.D.
The hypothetical problems gave the teams an opportunity to apply their programming knowledge, which will help in a professional environment, said Riley Johnson, junior computer science major from Fargo, N.D.
First-place team members included: Rumpca, Van Keulen, Hansen, and Jarod Keene, senior cyber operations major from Rapid City, S.D.
The third-place team members were: Nguyen; Johnson; Skylar Hagen, a junior computer science major from Aberdeen, S.D.; and Michael Boyle, a computer science/cyber operations junior from Oradell, New Jersey.
In addition to the DSU team, 12 other area universities were invited to the competition: Bemidji State University, Minnesota State University – Moorhead, Minot State University, North Dakota State University, Southwest Minnesota State University, St. Scholastica, University of Minnesota – Crookston, University of Minnesota – Duluth, University of Minnesota – Morris, University of North Dakota, University of Wisconsin – Stout, and Valley City State University.
The members of the Programming Club will participate in other competitions this fall, including a regional competition of the International Collegiate Programming Contest CM Regional Contest November 3.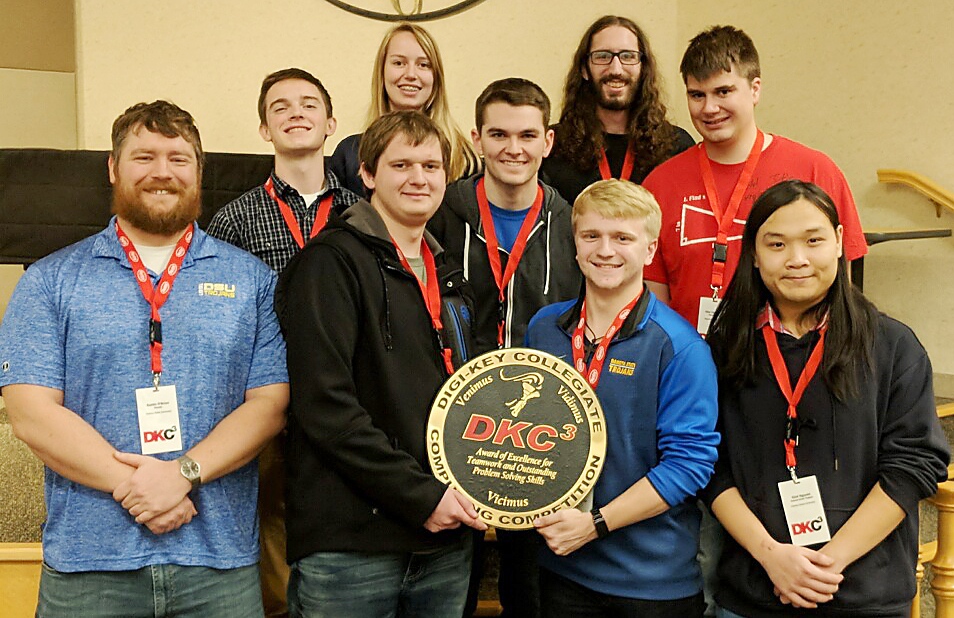 DIGI-KEY WINNERS: Programming teams from DSU won first and third place at the 2018 Digi-Key programming competition. Team members include: Skylar Hagen (back left), Michael Boyle; Riley Johnson (middle left), Jarod Keene, Alex Van Keuelen; Faculty advisor Dr. Austin O'Brien (front left), Collin Rumpca, Brendan Hansen, and Khoi Nguyen.
International Collegiate Programming Contest Regional Results

Members of the Programming Club participated in the regional competition of the International Collegiate Programming Contest CM Regional Contest in Minneapolis on November 3. Twenty-two university teams worked on site to solve 10 problems in four hours. DSU students placed as follows:

Third place -- Collin Rumpca, Brendan Hansen, and Jarod Keene
Sixth place -- Kyle Korman, Alex Van Keulen, and Thomas Lange
Eighth place -- Blake Nedved, Nathan Brooks, and Khoi Nguyen

In the regional (synchronous) competition with 209 teams in the region, DSU's team of Rumpca, Hansen, and Keene placed 14th against teams from the University of Nebraska, University of Wisconsin, Iowa State University, Kansas State University, Marquette University, and the South Dakota School of Mines and Technology