November 28, 2017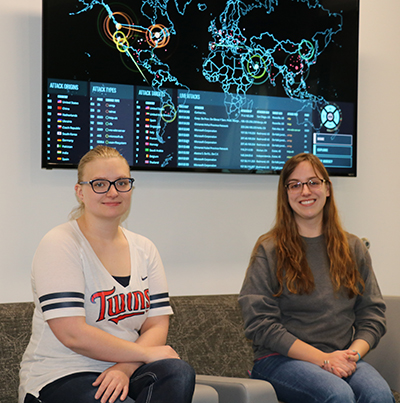 Opportunities for women in cyber security do exist, but it can be a struggle to find them, said Stephanie Plucker, a Dakota State University graduate student. The Parker, S.D. native is studying information assurance.
To help young women like Plucker learn more about cyber security, a Madison-based business has made a donation to the DSU cyber programs. The gift from SBS CyberSecurity will send six DSU undergraduate and graduate students to the 2018 Women in CyberSecurity (WiCyS) conference in Chicago, held March 23-24, 2018.
"We want to do everything that we can do to support diversity in our industry and bring awareness to the need to promote opportunities for females within our industry and the youth of tomorrow," said Aaron Gamewell, president/CEO/managing partner of SBS CyberSecurity.
The WiCyS (pronounced We-Sis) conference is just the place to do that, say DSU professors Pam Rowland and Dr. Ashley Podhradsky. The WiCyS initiative, supported by a National Science Foundation grant, was launched in 2013 as an effort to recruit, retain and advance women in cybersecurity.
"There are so many amazing careers in cyber security and so many women to look up to," Podhradsky said. By attending the conference, the DSU students will get to meet those women, along with fellow students and potential employers.
"In the state there is a small number of women in cyber security, but at this conference there will be about 1,000 attendees, and about 90 percent will be women," Podhradsky said. "It will be an eye-opening experience for our students because attendees come from government, industry, and academia. That variety is what's so exciting about the field."
"Whether they want to explore these different areas, or focus on a particular cyber security industry, we want the students to grow professionally and really learn at the conference," said Rowland, "then come back to campus wanting to learn more."
The students will not only attend the workshops and panel discussions, they will be participating, Rowland stated. Two students have applied to present at the poster sessions, and graduate student Jennifer Schulte will be helping with a Lightning Talk (a series of short presentations on a variety of topics.) Plucker is also attending the conference; the other four attendees have yet to be determined.
Both Schulte and Plucker appreciate the donation made by SBS. "It is reassuring that we have this supportive industry outside of campus, those who see the value of our education," said Schulte. The computer science and cyber operations major is from Watertown, S.D.
Podhradsky agreed. "We are thankful SBS sees the value in advancing women in cyber security, and we appreciate their support to show students the learning and networking opportunities available at this national cyber security audience."
The SBS donation also provides for a co-ed Breaker Day on Dec. 2. Students in grades 5-10 will learn how electronics work by taking them apart and then reconstructing their own creations, all in a safe and education environment. They may bring their own electronics, or use those provided. The event runs from 10 a.m. to noon Saturday at the DSU Beacom Institute of Technology.
A keynote speaker at the 2018 summer GenCyber Girls camp will also be sponsored by SBS.