Spoke workshop teaches inclusion through communication
November 28, 2018
"We often think of differences as something that keeps us apart from other people and I think building an inclusive environment shows it's very healthy for people to have differing opinions," said Stacey Berry, associate professor of English for new media at Dakota State University.
Because of this opinion, Berry recently hosted an inclusion workshop.
"I was in the 2017 Change Network Fellowship and Grant program, and part of the program is to think about how you can come up with a project that would somehow benefit and create change in your own network," Berry said.
Improved/increased communication was how she felt her network could be improved, so she created the Spoke workshop. To formulate this workshop, Berry worked with her project champion on campus, Dr. Judy Dittman, associate provost and Title III director, and other campus stakeholders like the diversity committee and administration.
The 25 attendees included faculty, staff, administration, and students who were also interested in creating change through improved communication. Those in attendance learned to use various skills to improve communication. Examples included beginning with positive intent, adopting a stance of informed curiosity (seeking additional information while remaining curious), developing different questions, deciding in advance how to address the situation, and examining moments of tension.
The workshop helps people to understand where they are in terms of being able to communicate with others who may be different and understand what causes conflict between people, and was based on a session Berry took through the Change Network. The training utilizes an Intercultural Development Inventory, an assessment of intercultural competence to build cultural agility and competence.
"The training taught me to see that there's a lot that we all can be doing in our own every day interactions with each other that help to create a more inclusive environment," she explained.
One way Berry recommends trying to be more inclusive is to learn more about other people's viewpoints and realize that an inclusive environment will include a variety of opinions and differences.
Toby Spainer, trainer with the University of Minnesota Extension Service, led the training.
Nelofar Sultan, English for new media major, chose to attend for personal development and growth.
"I think it helped me to recognize where I stand culturally, my cultural competence," said Sultan, an English for new media major from Pakistan. "I'm in many different groups, clubs, and organizations so it will help me in my leadership positions to interact with people that I meet."
Steve Graham, associate professor of computer game design, attended Berry's inclusion training and felt that it offered a lot of potential applications in game design.
"I have a goal of finding ways or helping students find ways of making games that are broader and deeper," Graham said. "And certainly, one of the ways I can do that is through different cultures."
An exercise that involved a card game was very effective in getting attendees to experience differences that are very similar to cultural differences, he said. Additionally, much of the training involved participants reflecting on their own interactions with other cultures.
"Occasional reflection is going to be beneficial," Graham stated.
Any students, faculty, staff, and community members who would like more information regarding future trainings can contact Berry at Stacey.berry@dsu.edu.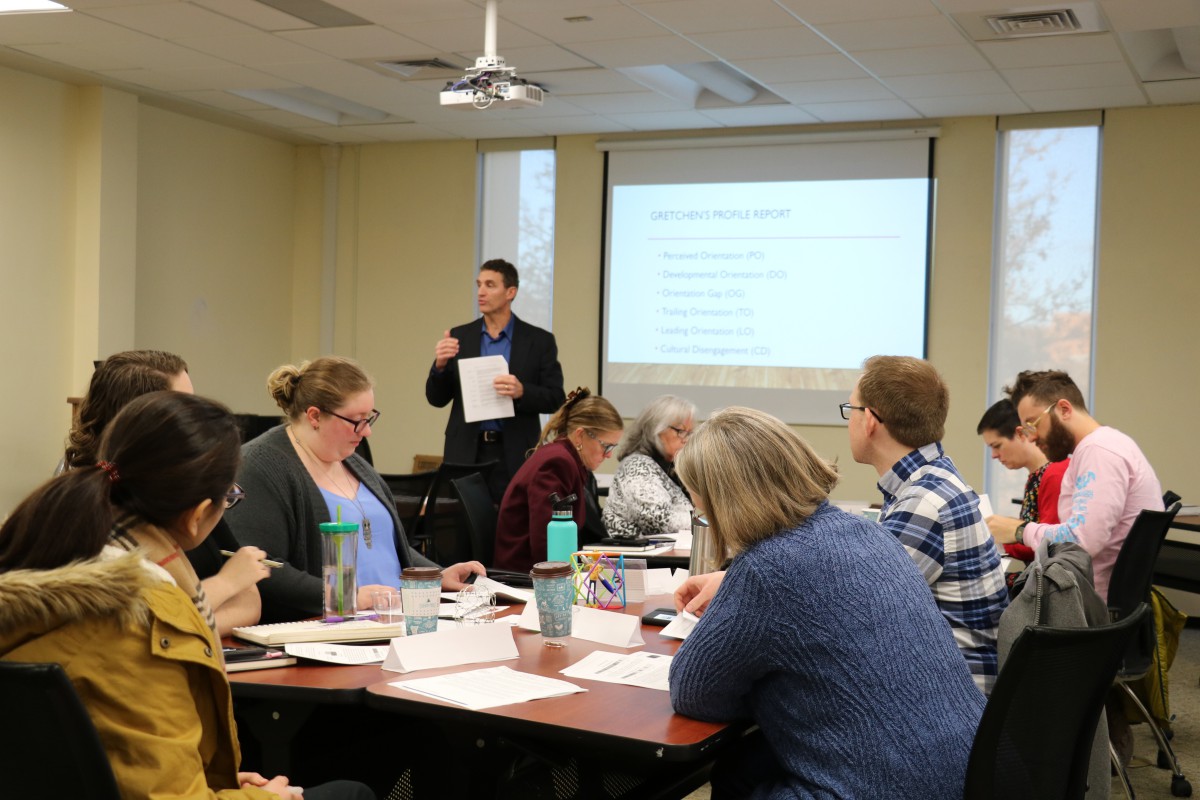 Attendees of Stacey Berry's Spoke inclusion through communication workshop spent the afternoon with Toby Spanier, an educator with the University of Minnesota Extension Service learning about Intercultural Development Inventory.