National society of leadership inducts students
May 10, 2019
"Without change, there would be no butterflies." 
Jordan Schuh, disability services coordinator and autism specialist at Dakota State University, shared that quote with the newest members of the National Society of Leadership and Success (NSLS) at their induction ceremony on April 30.
Schuh says the quote demonstrates that change is all around us, and in fact, it is the only constant in life. He shared experiences from his college days and work history, along with his personal life, to demonstrate that fact.
Schuh told the students that the important thing throughout life "is how you react to change, how you build who you are." He recommended students cherish their time in college, and the experiences they share with the people in their lives.
President José-Marie Griffiths also addressed this concept in her remarks. "Hopefully what you've learned here, and the things you've been through, you'll carry through with you as you go forward into other activities and other endeavors," she said.
NSLS is one of the nation's largest leadership honor societies. Students are invited to become members based on academic standing, and candidacy is a nationally recognized achievement of honorable distinction. The recent induction ceremony was the university's eighth, making Dakota State University chapter's numbers at almost 275 students.
Inducted members complete over 10 hours of leadership program training, said Mandy Parpart, the director of student activities at DSU, and the chapter advisor. The process includes an orientation, a leadership training day, three speaker broadcasts, three success networking team meetings, and culminates in the induction ceremony where the students receive their Certificate of Leadership Training.
"This accomplishment is commendable," said Parpart, "and puts you ahead of many of your peers."
Membership is for a lifetime, Parpart said, and provides access to benefits including scholarships and awards, exclusive on-campus events, employer recruitment through an online job bank, discounts on computers, textbooks, graduate school preparatory courses, insurance and more.
Newly inducted members for the 2018-2019 academic year include:

(Name, Major, Hometown)

Morgan Anderson; Elementary Education/Special Education; Big Lake, Minn.
Tammie Ankrum; General Studies; Sioux Falls, S.D.
Taylor Balling; Elementary Education, Math Education minor; Milbank, S.D.
Patrick Bamburg; Animation; Rapid City, S.D.
Lyndsey Baumberger; Health Information Administration; Colman, S.D.
Morgan Brown; Cyber Operations; Pueblo West, Colo.
Micah Brown; Cyber Operations; Huron, S.D.
Cassie Carlson; Cyber Operations; Monticello, Minn.
Miranda Chedester; Elementary Education; Marion, S.D.
Molly Elwood; English for New Media; Dunkirk, Ohio
Severin French; Production Animation; Gackle, N.D.
Madeline Gaukel; Graphic Design; Omaha, Nebr.
Andrew Geurts; Cyber Leadership and Intelligence; Dell Rapids, S.D.
Eric Graham; Cyber Operations; Milwaukee, WI
Max Hardyk; Film & Cinematic Arts and Cyber Operations; LeMars, Iowa
Spencer Harris; Computer Science and Cyber Operations; Harrisburg, SD
Travis Krakow; English for New Media; Flandreau, S.D.
Madison Krell; Computer Science; Shakopee, Minn.
Dalton Lage; Cyber Operations; Rapid City, S.D.
Ethan Masching; Computer Science; Sioux Falls, S.D.
Dean Minder; Computer Game Design and Computer Science; Rapid City, S.D.
Eric Minett; Cyber Operations; Tracy, Minn.
Mercedes Moeller; Elementary Education/Special Education; Welcome, Minn.
Tyler Moulton; General Studies; Ridgecrest, Calif.
Amanda Nelson; Elementary Education/Special Education; Garretson, S.D.
Aaron Oakland; Computer Science and Mathematics for Information Systems; Sioux Falls, S.D.
Nick Offerman; Cyber Operations; Arlington, S.D.
Jaclynn Rogers; English for New Media; Miller/Huron, S.D.
Noah Salmen; Elementary Education; Madison, S.D.
Holly Sando; Production Animation; Colton, S.D.
Kole Sawvell; Production Animation; Huron, S.D.
Tre Smith; Computer Science; Watertown, S.D.
Jack Weekly; Computer Science; Mina, S.D.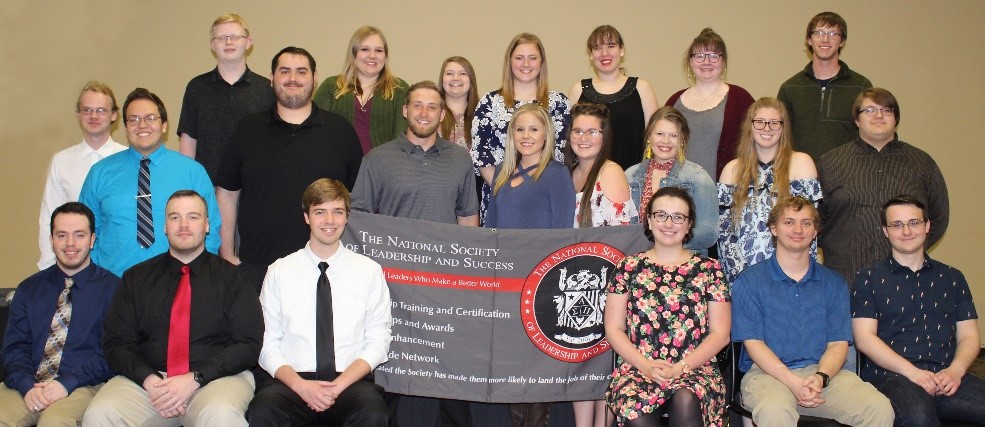 NSLS MEMBERS -- The newest inductees into the DSU chapter of the National Society of Leadership and Success who attended the April 30 induction ceremony are: Andrew Geurts (back left); Cassie Carlson; Amanda Nelson; Mercedes Moeller; Molly Elwood; Madeline Gaukel; Noah Salmen; Patrick Bamburg (middle left); Severin French; Dalton Lage; Tyler Moulton; Morgan Anderson; Taylor Balling; Miranda Chedester;  Holly Sando; Morgan Brown; Travis Krakow(front left); Ethan Masching; Tre Smith; Jaclynn Rogers; Aaron Oakland; Micah Brown.