May 26, 2016
The Dakota State University Chapter of The National Society of Leadership and Success recently held its ceremony for its third induction class, which included 29 DSU students.  Inducted members completed a leadership program consisting of an orientation, a leadership training day, three speaker broadcasts, three success networking team meetings, and an induction ceremony where they received their Certificate of Leadership Training.  This spring's induction ceremony included a keynote address by Josh Thomas (DSU '12), Third Grade Teacher at Hayward Elementary in Sioux Falls.
The Society is one of the nation's largest leadership honor societies.  Students are invited to become members based on academic standing.  Candidacy is a nationally recognized achievement of honorable distinction. Membership is for a lifetime and provides access to benefits including scholarships and awards, exclusive on-campus events, employer recruitment through an online job bank, discounts on computers, textbooks, grad school prep courses, insurance, and much more.
With the addition of this induction class, the Dakota State University Society Chapter now consists of 137 students and several other members who are working towards their induction.  Students are invited to join each semester.  "I'm very proud of our members. The Society has had a significant impact on our campus, inspiring our students to become better leaders, and helping them build a better future for themselves, the campus, and their respective communities," said Mandy Parpart, Chapter Advisor.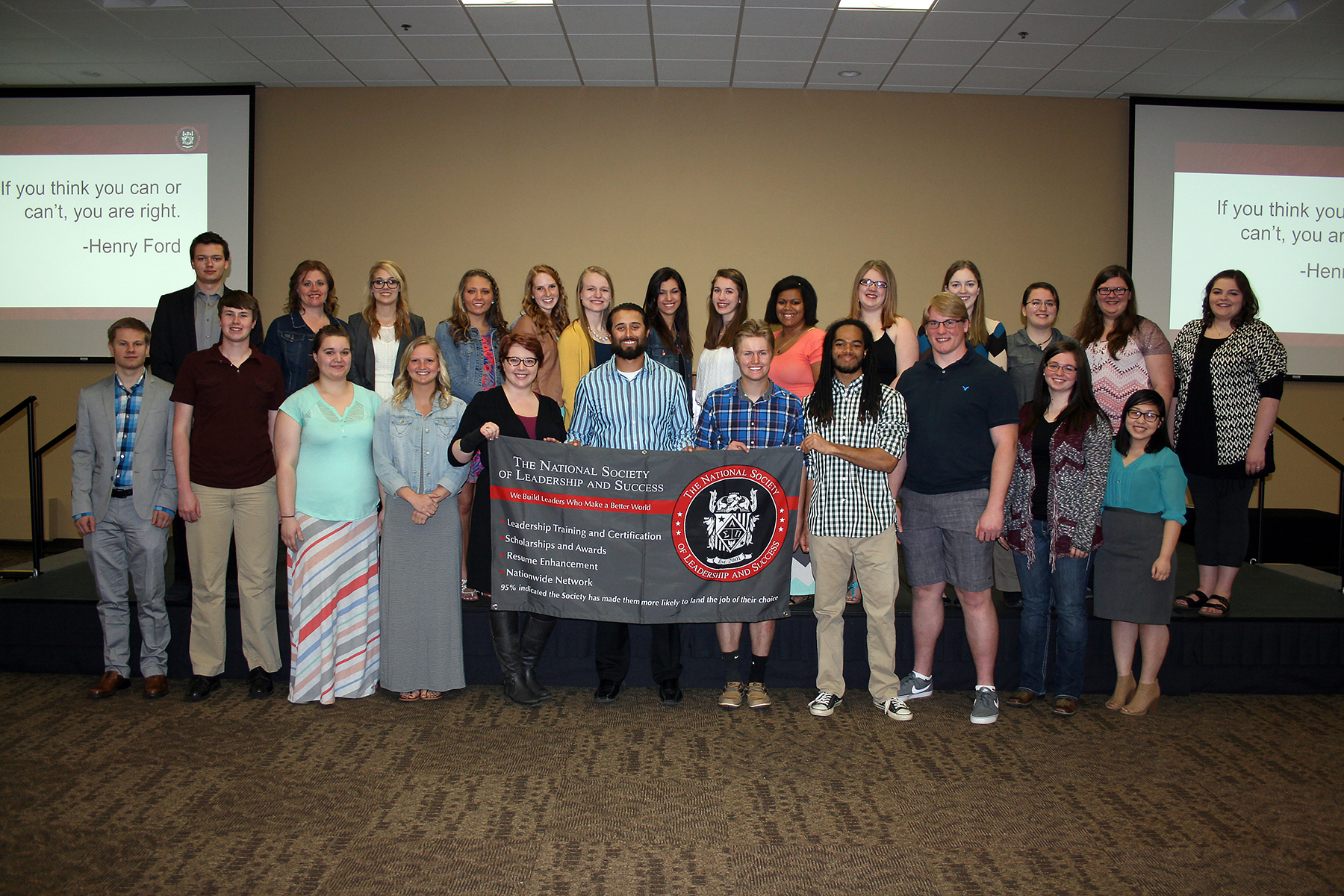 Inductees
Front Row: Christian Weelborg (Richmond, Texas), Dan Burwitz (Larchwood, Iowa), Kate Gomez (Onamia, Minn.), Allison Thielsen (Aberdeen, S.D.), Marissa Tambornino (New Ulm, Minn.), Tyler Pruszynski (Azusa, Calif.), Andrew Hesse (Jackson, Minn.), Mahcia Davis (New Castle, Del.), Brandon Schmit (Jackson, Minn.), Amanda Larson (Hayti, S.D.), Julie Yang (Maplewood, Minn.)
Back Row: John Benson (Nederland, Colo.), Aly Olsen (Mitchell, S.D.), Blenda Hadsall (Winner, S.D.), Emily Schroeder (Watertown, S.D.), Megan Burbach (Tabor, S.D.), Leah Rogness (Astoria, S.D.), Hailey Harms (Colman, S.D.), Hannah Knock (Willow Lake, S.D.), Tajia Schamp (Tabor, S.D.), Christine Pinkelman (Tyndall, S.D.), Keri Johnson (Flandreau, S.D.), Samantha Braun (Harrisburg, S.D.), Amanda Smeenk (Harrisburg, S.D.), Rachel Slaven (Sioux Falls, S.D.)
Not Pictured: Harrison Halma, Nicholas Rens, Tiffany Sommer, Shelby Vogel
Executive Board
Front Row: Jennelle Pueppke (Alexandria, S.D.), Membership Outreach Chair; Erin Bruns-Long (Lake Preston, S.D.), Publicity Chair; Joshua Dosdall (Elk Point, S.D.), President ; Edward Clark (Baltic, S.D.), Secretary
Back Row: Amanda Eulberg, Community Service Chair; Dakota Parris (Corpus Christi, Texas), Treasurer; Dillon Olson (Arnold, Neb.), Society Events Chair; Andrew Eppe (Howard, S.D.), Vice President
Not Pictured: Mandy Parpart, Advisor
About The National Society of Leadership and Success
The National Society of Leadership and Success was founded in 2001 to build a community of like-minded, success oriented leaders who come together to help one another succeed. The Society offers interactive broadcasts with the nation's best speakers, training in goal setting, and team meetings in which students set and hold each other accountable for achieving goals.  Today, the Society has chapters on more than 475 college and university campuses nationwide and serves more than 450,000 members. For more information, please visit www.societyleadership.org. Follow the Society on Twitter @theNSLS and Like on Facebook.