April 18, 2017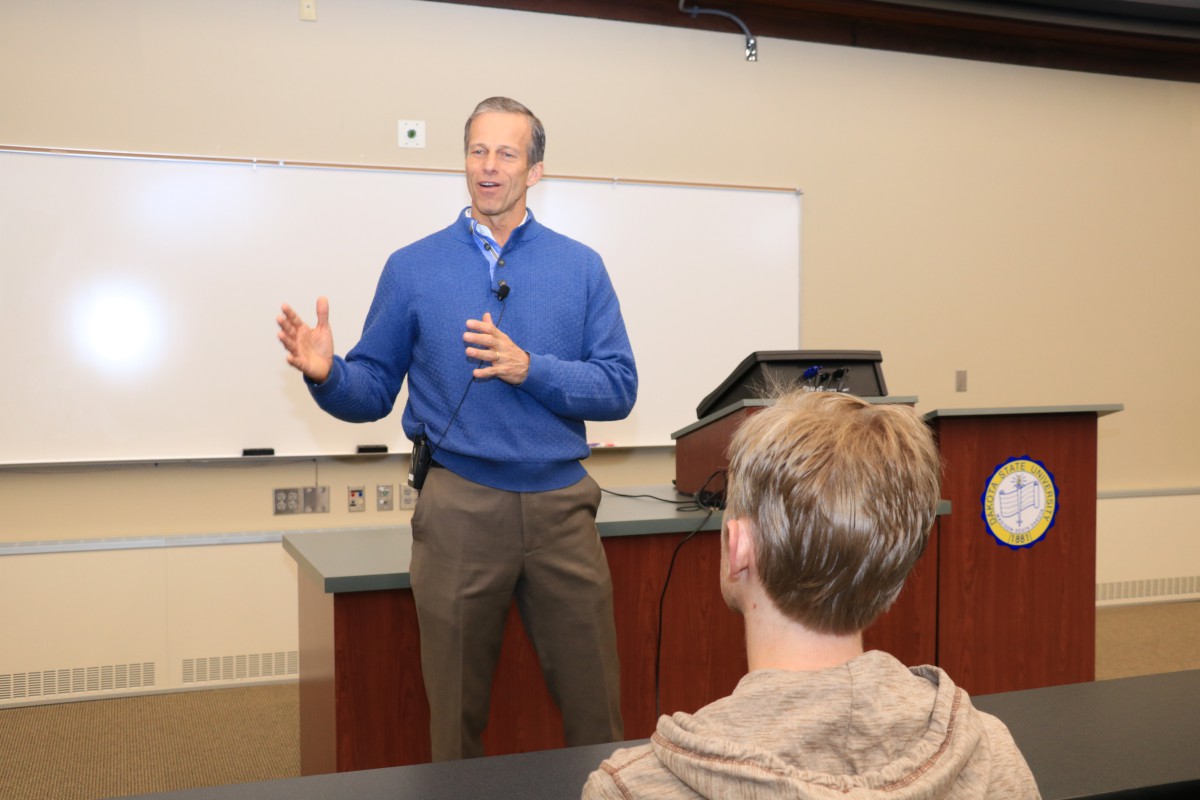 U.S. Senator John Thune brought Washington, D.C. to Dakota State University with an open forum held on campus on April 11. The topic of discussion at the public event was 5G networks. Current technology networks are 3G or 4G, but a need for more capacity and speed has technology leaders predicting 5G will be implemented by 2020.
Thune, Chairman of the Commerce, Science and Transportation Committee which oversees information transport, told the 200 people in attendance that the government is "very interested in getting to 5G first. We have to win that race."
Technology innovations taking place at DSU fit nicely with what federal lawmakers are trying to do in regard to 5G, Thune said. "I am always proud to brag to my colleagues in the Senate what's happening at Dakota State University," he said, mentioning the university's developments and accomplishments that help the nation's vital security interests and the IT workforce shortage.
Thune answered a variety of questions from DSU staff and students, some dealing with the tangible effects of technology, such as autonomous vehicles and the digital divide. These are considerations when looking at any disruptive technology, he said, but "I don't look at it as a zero-sum game," because technology changes provide an opportunity to look at workforce needs of the future.
While some government incentives may be necessary, Thune said a light touch is more effective when considering potential regulatory burdens. "If the government gets too heavy-handed, that will result in less investment and we won't win the race," he explained, so he has introduced a bill in the Senate which would reduce government regulations. MOBILE NOW (Making Opportunities for Broadband Investment and Limiting Excessive and Needless Obstacles to Wireless act), co-sponsored by Thune and Florida Sen. Bill Nelson, proposes reforms to boost the development of next-generation 5G wireless broadband by ensuring more spectrum is made available for commercial use and by reducing the red tape associated with building wireless networks.
Some audience questions were philosophical, asking about the balance between freedom and security, and the importance of speed and range versus security. In the United States, Thune said, "[w]e believe in personal freedom coupled with individual responsibility." Again, he said, it is not a zero-sum game, and DSU has a role in striking the proper balance. "The world is clamoring for the skill set students have here," he said, including their South Dakota work ethic, integrity and professionalism.