Trojan Times brings back print edition
September 26, 2018
The Trojan Times will soon be appearing in print once again after eight years of online-only content.
Dakota State University will release a fall edition of the Trojan Times, featuring original content, the day of the homecoming game, said Tori Martin, the paper's student editor. It will be free and available in the Trojan Center, residence halls, and at Trojan Field. A second print edition will be released in the spring.
The idea to start publishing a print version of the Trojan Times came from Martin, according to the paper's advisor, Dr. Justin Blessinger, Trojan Times advisor.
Martin felt that the online-only format limited the exposure of the Trojan Times, so she was inspired to request they create a paper version.
Blessinger and Martin have worked together to bring the paper back to print, but Martin has taken the lead, speaking regularly with the Madison business Leader Printing. She has made sure that the paper is following the Leader's new specs, since eight years have passed since an issue was last printed, Blessinger shared.
"I always hoped there would be both again," Blessinger said. "DSU has grown and adding a print version has become a more viable option."
Currently, the staff has taken on additional writing duties to fill the eight pages with stories that will differ from their online version. The online version of the newspaper presently posts about four new stories a week.
The tabloid size print edition will feature articles meant to appeal to a broader audience, beyond just the students of Dakota State University, according to Blessinger.
"One of the articles will feature coverage on recent construction on campus," he said.
The hope is that topics like campus construction will also interest alumni and community members and encourage them to pick up a copy of the paper.
In the future, the Trojan Times may request to include additional editions beyond the fall and spring. The paper is funded through student fees as part of the general activities fund.
The Dakota State University newspaper dates back to at least December of 1891. Then referred to as The Normal Topic, the paper was printed semi-monthly. Over the next several decades it went through a variety of names, before becoming the Trojan Times in 2000, according to paper history.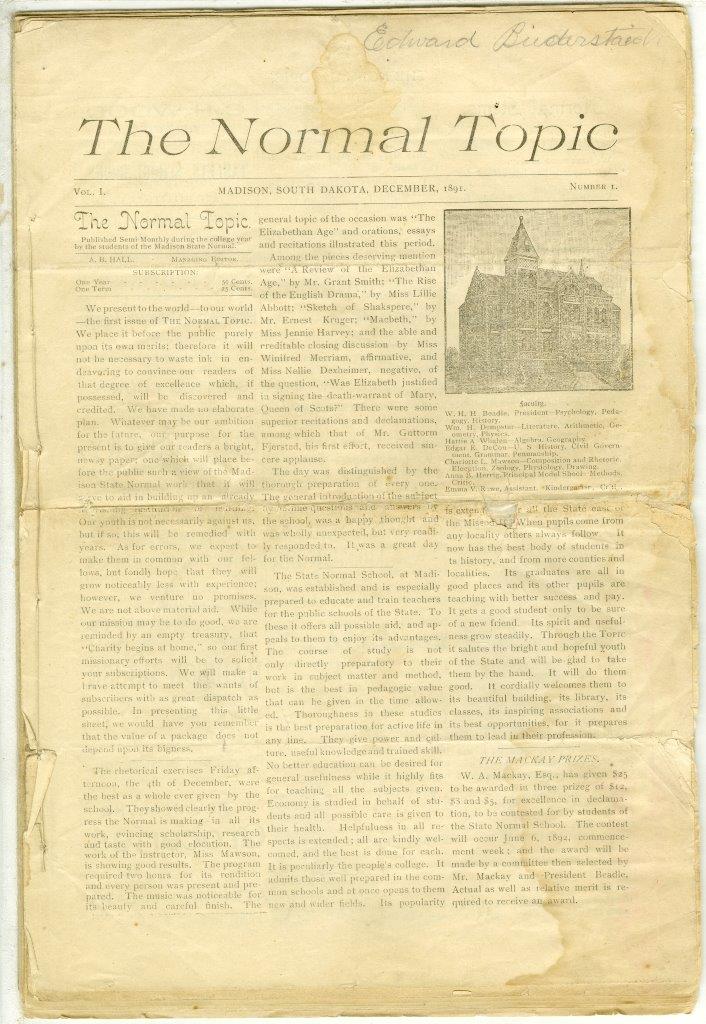 This image is of the first Dakota State University paper ever issued, The Normal Topic, published in December of 1891. The Trojan Times will now be seen in print once again, after eight years as an online-only publication.