March 21, 2017
By mission and reputation Dakota State University is known as a technology school, not an agriculture school. But while studying for technology degrees, two DSU students are keeping a connection to agriculture through their work with state ag organizations.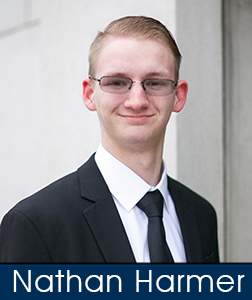 Nathan Harmer and Reece Schulte are both freshmen at DSU. Harmer, a network security administration (NSA) major from Sioux Falls, is an ambassador for Future Farmers of America. Schulte is on the Farmers Union Senior Advisory Council. He is a production animation major from Orient, S.D.
It's too soon for either to say if they will work in the ag field, but neither rules it out.
"There definitely are ag jobs out there" in technology, said Harmer. "Ag has progressed so much in technology that there are always going to be [openings]," he said.
Some DSU graduates have gone on to work at ag-related companies. According to information provided by the DSU Career Services Office, a 2011 digital arts and design graduate was hired by Farm Bureau in Sioux Falls. A 2012 information systems major found employment with AgSense, LLC in Huron, and another 2012 graduate with an NSA degree went to work for Dockendorf Equipment in Sioux Falls. C&B Operations in Gettysburg hired a 2014 computer science graduate. 
This may become more and more common. According to a July 5, 2016 Forbes magazine article, "Agriculture technology is no longer a niche that no one's heard about." It states that "investment in agtech broke records for the past three years in a row, reaching $4.6 billion in 2015."
With ag and technology, "as one improves, the other improves," Harmer said, adding that ag-dominated companies are beginning to produce more technology products, and vice versa. Raven Industries is an example which he cited.
"Real-time data analytics, sensors and robots are raising the prospect of the 'next green revolution' and are spurring start ups," said an October 24, 2016 Bloomberg Markets news story about a report by Boston Consulting Group and AgFunder. 
Networking is another feature of technology that is becoming important to agriculture. "There needs to be infrastructure so that combines can relate to the GPS," Harmer said. Animation could cross over as well, a way to help the commercialization aspect of agriculture, said Schulte.
Benefit from Ag Organizations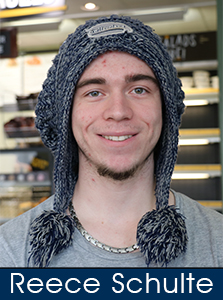 Schulte, a Faulkton High School graduate, calls Farmers Union "a great educational system." It helps younger generations learn about farming and how to get involved in farming, and has educational programs for adults as well. The national organization has chapters in 33 states.
As a member of the senior advisory council he is looking forward to helping plan the summer's state camps.  He also attended the national convention in San Diego earlier this month, where he was able to see the political side of agriculture, "a heated time" he said, because of many policy changes.
"Now is an exciting time for Farmers Union."
Harmer focused on ag education and teaching during his high school FFA career at Harrisburg High School. He was involved in running petting zoos and other events, "basically just educating the public." Because Harrisburg is a very urban school, these events helped "open the eyes" of those students.
As an FFA ambassador, he now assists with events by taking care of logistics. He is happy to be involved so "I can give back to the organization that's given so much to me."
One way he has benefitted from FFA is personal growth. "I've grown my leadership skills," Harmer said, and his ag knowledge. Networking is another benefit. "You get so much out of networking," he said. Schulte agreed, and noted the organization has helped his communication skills.
While an ag career may or may not be in his future, Harmer knows "Ag will always be a big part of my life."
"I will always be an advocate for ag."