Virtual classroom preps students for teaching
November 7, 2018
A student pulls out a cell phone in the middle of class, another is talking about the movie "Resident Evil," and a third student doesn't understand the point of the exercise. For a new student teacher, classroom interruptions can be tough to handle, which is why students in the elementary education program at Dakota State University spend class time teaching through the Virtual Avatar Learning Experience (VALE).
The VALE uses TLE TeachLivE, a mixed-reality teaching experience created at the University of Central Florida. Students stand in front of a television screen teaching five avatars, or computer-generated students. Twice a semester the student teachers present an eight-minute lesson to the children focusing not only on teaching the curriculum, but also on classroom management.
"The primary objective of the VALE is to work on classroom management skills," said Dan Klumper, DSU instructor of social science pedagogy. "It's the hardest thing to practice in college, but the most important thing as a student teacher and first year teacher."
Dakota State is the only institution in the state to offer an avatar teaching experience. In addition to giving the DSU students time teaching in the classroom it also enables the professors to observe their students teaching.
"Observing the students benefits us a lot," Klumper said. "We can see what they need to work on. We can see their strengths and weaknesses before they go out to schools."
"It'd be hard for us to watch all of these 11 students in an actual classroom teaching in one afternoon, so now in this classroom we see all of them and can give them all feedback," said Dr. Kevin Smith, assistant professor of mathematics education.
"The avatars acted out a little bit more last time, and now our students are doing a better job of explaining their expectations of behavior," Klumper said.
Kasey Randall, elementary education and special education major from Sioux Falls, S.D., has found watching other students teach and receiving feedback from Klumper and Smith has helped her tremendously with her own teaching skills.
VALE allows student teachers to move past initial shyness they may encounter with new students. "Sometimes when you go to a classroom it's very quiet when you're first there," said Lyndsay Pruss, DSU elementary education and special education major, "but these avatars test you like they would once you get to know students a bit."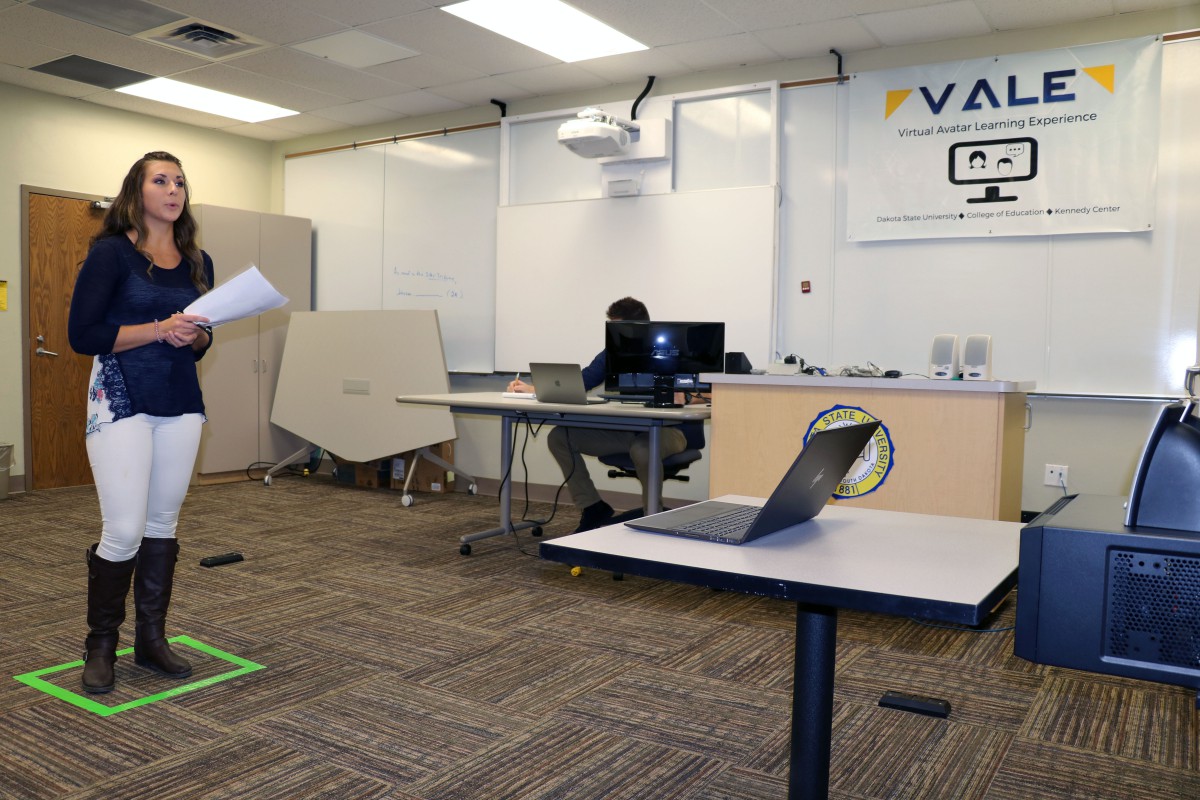 Lyndsay Pruss, elementary education and special education major from Sioux Falls, taught a math lesson to virtual students, an exercise that enables education students to practice classroom management.