Walt Disney's favorite teacher was DSU alumna
September 21, 2017
"You can design and create, and build the most wonderful place in the world. But it takes people to make the dream a reality." Walt Disney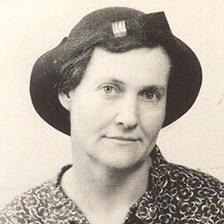 One of the people who helped Disney make his dream a reality was his seventh-grade teacher, Daisy Beck. Beck just happens to have been an 1898 graduate of Eastern State Normal – now Dakota State University.
Disney praised Beck for her "…patient concern for a laggard boy more interested in drawing cartoon characters on textbook margins than in the required three Rs," according to a 2007 article by Mouseplanet.com staff writer Wade Sampson. Mouseplanet.com is an independent consumer guide to Disney travel and vacations.
"[Beck] had the knack of making things I had thought dull and useless seem interesting and exciting." Disney's quote continued. "She gave me the first inkling that learning could be enjoyable -- even schoolbook learning, and that is a great moment in a kid's life."
In honor of Disney's appreciation of Beck, the alumni float in Saturday's Trojan Day parade will feature the Disney character Daisy Duck, who is rumored to have been named after Beck. This theme fits in with Homecoming's Disney-based theme "Where Dreams Come True."
The DSU Alumni Association will honor five additional alumni who have helped make dreams a reality through their achievements or volunteer service. These individuals have been invited to ride on the alumni float in the Trojan Day parade Saturday, and will be formally recognized at halftime of the Homecoming football game versus Presentation College.
Bev Mader, Class of 1992 – Professional Service Award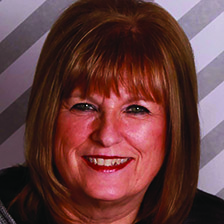 This award recognizes a commitment to service through volunteer service. Mader has been a volunteer at Prairie Village since 2002, first helping with the Prairie Village Pageant, later as pageant director and opera house entertainment director. In 2015, she took on a paid position as office administrator and gift shop and campground manager. She also works at Always Your Design, a quilt shop in Dell Rapids.
Mader graduated from Dakota State in 1992 with a degree in business administration. She and her husband, Jack, together have eight children, 20 grandchildren and three great-grandchildren. 
Amy Dockendorf, Class of 1992, and Amy Crissinger, Class of 1992 – Service to Alma Mater
Two alumni, Amy Dockendorf and Amy Crissinger, are being honored for their exceptional service to the university and/or the alumni association.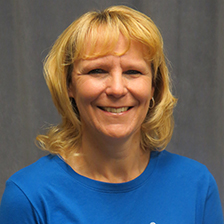 Dockendorf has worked in the DSU business office since graduating with her business administration degree in 1992; she has been controller since 2000.
Dockendorf is also very active in the community. She is a member of St. Thomas Aquinas Church and Catholic Daughters, is on the East River Federal Credit Union supervisory committee, a board member and volunteer with Junior Achievement, and past leader and officer with 4-H. Dockendorf is involved in volleyball and softball recreational leagues as well, and is an assistant softball coach. She and her husband, Tim, have two daughters, Karli, a junior in college, and Lindsey, a junior in high school.
Crissinger began her career at DSU as an admissions counselor after earning her business degree in 1992. In 1999, she was promoted to director of admissions, and in 2011 was named associate vice president of enrollment management. Throughout her 25 years with DSU, Crissinger has also been involved with projects related to strategic planning, accreditation, institutional effectiveness, continuous quality improvement and student success.
Trevor Nash-Keller, Class of 2007 – Young Alumnus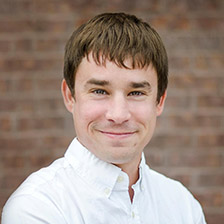 Nash-Keller was chosen as the 2017 Young Alumnus honoree because of the leadership capabilities he has demonstrated, and his commitment to the service of others in the 10 years since his graduation. With his degree in e-commerce and computer security, he founded Nash-Keller Media, a digital marketing agency which specializes in scaling businesses online. Nash-Keller uses data-driven methods to spot trends, and develop and implement cutting-edge strategies to explode the overall growth of local, national and international brands.
Nash-Keller is also chair of the Due Diligence Committee of the Falls Angel Fund. Through this work, he oversees and investigates possible investments in early-stage, high-growth companies in South Dakota and surrounding states. He and his family live in Sioux Falls.
Max Hodgen, Class of 1997, '99, and '09 – Alumni Coach of the Year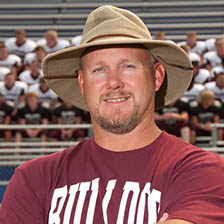 Max Hodgen teaches math and science at Madison High School, and is also the head coach for the Bulldogs football team. Hodgen has guided the team to four consecutive State Class 11A Championships, bringing home back-to-back state titles in 2015 and 2016.
In the DSU classroom, Hodgen earned bachelor's degrees in technology management and physics education, and a master's degree in technology. On the field at DSU, Hodgen was a four-time South Dakota Intercollegiate Conference (SDIC) All-Conference selection, a three-time NAIA Football All-American, three-time team captain and was the team's Most Valuable Player from 1993-95. He is married to DSU alum Suzy Collignon, and they reside in Sioux Falls, S.D.
Gale Wiedow and Laura Horton – Parade Marshals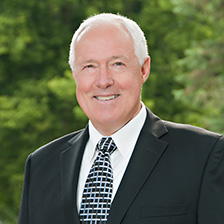 Parade marshals will be Gale Wiedow and his wife, Laura Horton. Wiedow devoted 29 years of his career to higher education in South Dakota, nine of those years at Dakota State, as professor of physical education and exercise science, and dean of the DSU College of Education. He retired as dean in 2016. Horton was an education professor at USD. 
"Gale was an obvious choice as parade marshal because of his years of dedication to DSU and specifically his leadership within the College of Education," said Marcus Garstecki, vice president for student affairs at DSU. "We felt this was a perfect opportunity to invite Gale and his wife Laura back to campus and to recognize them for not only for the service to DSU, but also their continued friendship with the university."