February 24, 2020
Coming home will be the best thing a Dakota State University education can provide for Carl Petersen. The DSU senior intends to develop a game design studio on the South Dakota reservation where he grew up.
"I don't like to be bored," said Carl Petersen, a senior from Parade, SD.
That is not a problem for the computer game design major and math for information systems minor. In fact, he is one of the busier students both on and off-campus.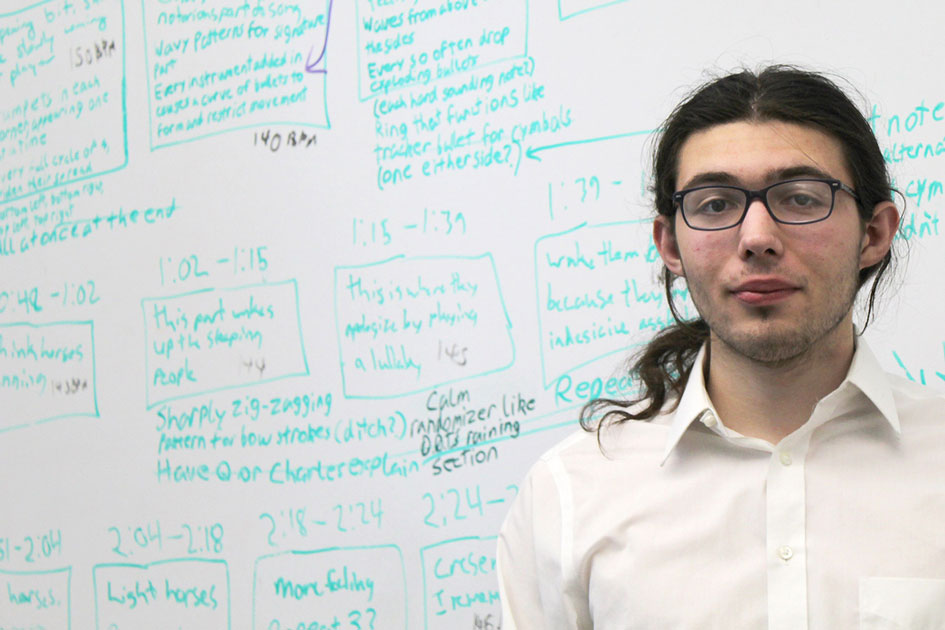 During his college years, he has traveled to conferences in California, including BlizzCon and the Game Developers Conference GDC, and participated in the 2018 38+2 Ride and the 2018 Chief Bigfoot Memorial Ride. He has held summer jobs: as a tour guide at the Crazy Horse Memorial near Custer, S.D.: with Missouri Breaks Industries Research; and with the state's Unified Judicial System. He also participated in study-abroad programs, visiting Paris, Germany, and Belgium in 2018.
Despite all this travel, the best thing his Dakota State education will provide for him is "the ability to stay in South Dakota." While he appreciates other countries and cultures, "Living anywhere else would be hard. That's the most valuable thing for me, being able to stay home," while he pursues his degrees.
Through his experiences with the Gaming Club and the annual IDiG (Integrated Design in Games) event, Carl has been able to learn about the struggles people face getting involved in the game design industry, which is now bigger than the film industry. He had originally planned to find a job in California in a AAA game studio, but after traveling and seeing the world, that doesn't have any appeal for him.
"I don't see a reason to leave South Dakota to chase something that's not really me, that's not about doing something that I want to do. DSU has really helped me figure that out."
To help make his dream of staying South Dakota a reality, Carl won a $10,000 Dreamstarter grant in 2019, which he will use to start his own game design company, Northern Plains Game Design. This studio will be located on the reservation, and employ Native Americans to create games for Native Americans. The first game idea is called Tipi Builder, in which players build the structure with instructions in the Lakota language. This concept is unique and different, but DSU has an abundance of people who think differently, he said. "We're not cookie-cutter people."
His advice to prospective students is to "find what you're interested in and do what's going to make you happy." He knows people can "do anything you want, but also ask what's best for you."