May 20, 2020
Hunter Baer, a freshman computer science major from Garrison, North Dakota, was recently accepted to West Point United States Military Academy.
Baer first became interested in attending West Point in December of 2018 after friends were accepted to the Naval Academy and West Point. He began the application process in June of 2019.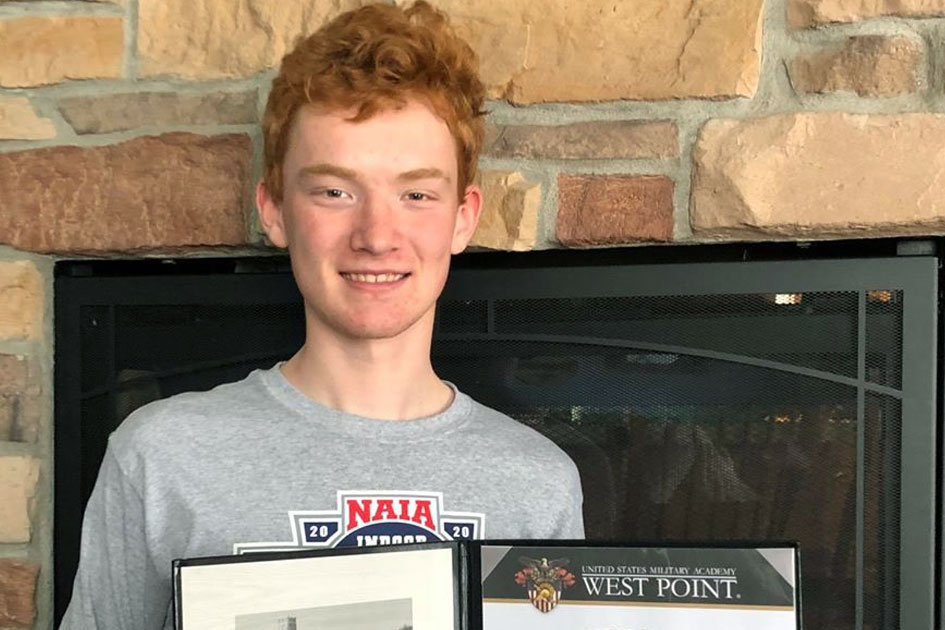 He chose to attend Dakota State during the application process for the same reason he wanted to attend West Point, to go to a small, involved college.
"I knew I wanted a fully immersive and intense learning experience," he added.
While attending DSU, Baer continued working toward his goal of being accepted and attending West Point.
"The application process is much longer and more in-depth in comparison to Dakota State's or most regular colleges," Baer explained. "The major difference is that you require a Congressional nomination to be considered, which is a whole separate process."            
Additionally, applicants will go through a physical assessment, interviews, teacher evaluations, medical evaluations, be required to write essays, and share their past extra-curricular activities.
To prepare for the interviews required to receive the Congressional nomination, Baer worked with Kelly Greene, career development/internship coordinator with DSU's Career and Professional Development. This was really beneficial during the process, he added.
In addition to his preparations for West Point, Baer joined the Reserve Officer Training Corps (ROTC) at Dakota State, became involved in Student Senate, and ran cross country and track.
Baer is thankful for his time at Dakota State, noting that it has given him a taste of independence, and shown there are consequences for not being on top of academics.
"I know I have a lot to learn at West Point, but I know I am a more experienced person than I was when I started the application process," he explained.
DSU taught him that he could really delve into all of his interests, both in school and outside activities.
"I think not going into West Point 'fresh' will be really helpful," he said. "ROTC and classes, along with cross country and Student Senate have really taught me how to properly manage my time. From everything I have read about the Academy, that is the most necessary skill needed."
Baer plans to major in political science/grand strategy at the Academy but will not be required to make that decision right away. After West Point, he will spend a mandatory five years of service as a Commissioned Officer. Beyond that, Baer hopes to get involved in public service.
"Right now, I'm just trying to be as physically and academically prepared as I can be before heading off," he said.