September 29, 2020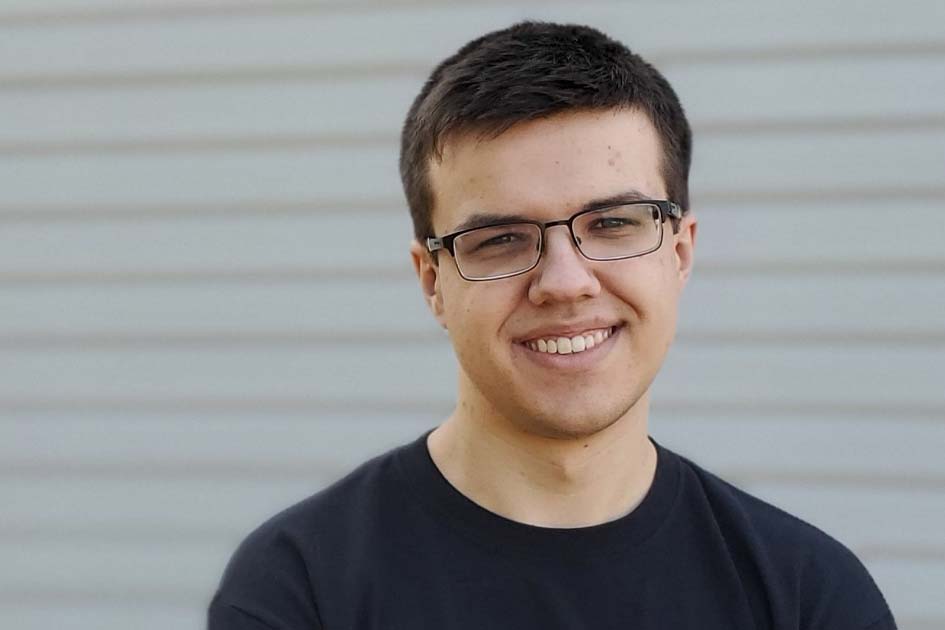 When students say Dakota State faculty care about their students, they mean it. Case in point: the 2020 Wild West Hackin' Fest (WWHF).
Thirty students attended the 2020 conference free of charge, with tickets provided by Dr. Ashley Podhradsky, associate dean of The Beacom College, and associate professor of Information Assurance and Forensics. In lieu of an honorarium for her talk on "The Workforce Gap in Cybersecurity," she asked for 30 tickets so students could attend the event. With education being its main goal, the conferences' labs, competitions, and 50-plus presentations provide an opportunity for students to learn about the cyber industry.   
A DSU graduate student was one of those presenting at WWHF.
Austin Babcock, a master's degree student in computer science with a cyber operations specialization, has been mentored by Dr. Bramwell Brizendine since Babcock was an undergraduate.
When Babcock was completing his undergraduate degree in cyber operations, he took Brizendine's reverse engineering course.
"Austin has great attention to minutia, fine-grained detail," Brizendine stated, so "I assigned him a lab with complicated software to reverse engineer and recreate the source code, and he did it 100% perfectly." Brizendine subsequently involved Babcock in additional projects, which helped inspire him to go on to graduate school.
"I felt like I wanted to further expand my knowledge," Babcock said, so he decided to stay with DSU after receiving his bachelor's degree in Spring 2020.
"Now, not only is he a graduate student, but he is presenting at a conference," Brizendine said.
Babcock really likes going in-depth with technology; in fact, the more complicated, the better.
"It's like a little puzzle to solve, with a million different ways to solve it, and half of those don't work." While it is intense working on those projects for hours and hours, he said, "it's satisfying … and you get to be creative."
Babcock is also able to do in-depth research with the VERONA Lab, which can lead to journal articles and publications, and presentation opportunities similar to WWHF.  Brizendine is director of the Madison Cyber Labs VERONA Lab, which specializes in vulnerability research, software exploitation, software security assessments, and the development of new, cutting-edge tools and techniques with respect to software exploitation. He is also an assistant professor of Computer and Cyber Sciences.
DSU is one of the few places where students have opportunities for hands-on projects for low-level software exploitation, Brizendine said, and Babcock added, "That's really nice."
Dr. Josh Stroschein joined Brizendine and Babcock for the presentation on software exploitation technology called JOP ROCKET, a framework developed by Brizendine. Babcock had helped provide some information for a JOP ROCKET presentation the two faculty gave at the 2019 DEF CON 27. The DEF CON presentation was relatively short; the WWHF will be a 50-minute talk. "I'm excited to be able to cover the topic more in-depth," Babcock said.
In his future career, Babcock would like to continue to work researching exploitation and malware analysis, ideally with the Department of Defense.