September 23, 2020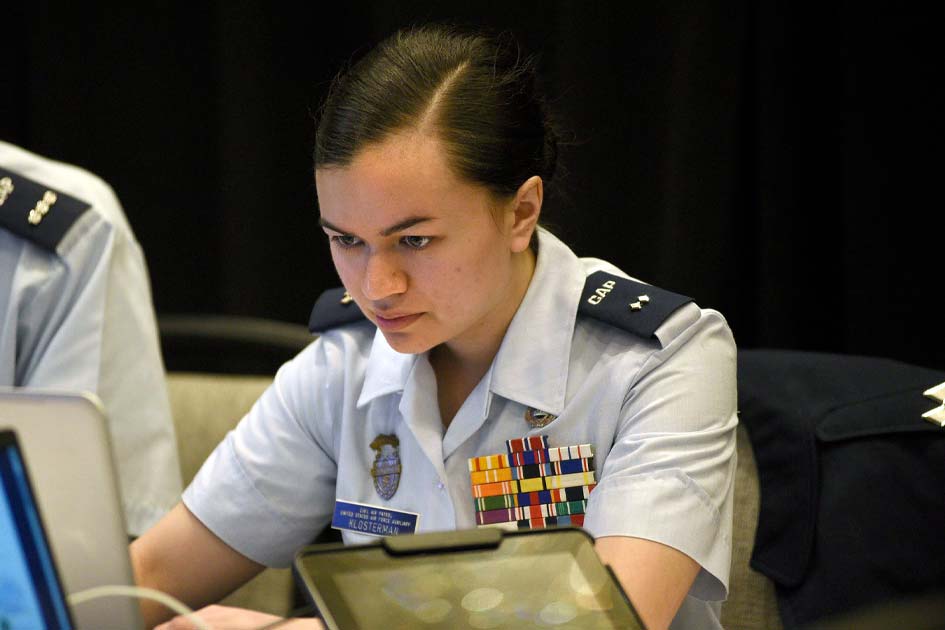 Annabelle Klosterman is only a first-year student at Dakota State, but her early experience in technology has helped her earn significant scholarship recognition.
She began exploring cyber studies by attending DSU's GenCyber camps as a middle school student. She took some computer science coursework in high school, and participated in cyber-related extra-curricular activities, working at an area data center, and was active with Civil Air Patrol and Cyber Patriot programs.
"I participated in the Cyber Patriot competitions all four years in high school," she said, "and we qualified for nationals the last two years." This is quite an accomplishment, as only 28 of 6,400 teams (in three divisions) make the national finals.
"Annabelle is a perfect example of a young woman who took advantage of opportunities," said Dr. Pam Rowland. "When she attended GenCyber Camp as a middle school student, she likely did not know the path that would start her down. By exploring and being a part of different programs, Annabelle was able to find the area that she was truly passionate about."
Klosterman's passion is paying off, with a long list of scholarships:
Cyber Defense Media Group Women in Cybersecurity Scholarship
(ISC)2 Women in Cybersecurity Scholarship
MalwareBytes STEM Scholarship
Visionary Integration Professionals Women in Technology Scholarship
Evolve IP Cloud Technology Scholarship
Civil Air Patrol Academic Scholarship
Citi Youth Leadership Scholarship
Sioux Valley Energy Scholarship
Alliance Communications Scholarship
StarOne Scholarship
In September 2020, she added to more scholarships to the list, when she was named the winner of a $5,000 ESET Women in Cybersecurity Scholarship, and an Intertech STEM Scholarship.
Scholarships "definitely help," Klosterman said. "It makes it easier because I don't have to worry about financial details," she said. "I can focus on my education and other opportunities."
For Klosterman, these opportunities include studying cyber operations through DSU's 4+1 Program, which allows students to get both their bachelor's and master's degrees in five years. She is also able to participate in the CybHER program, and the offensive and defensive computer clubs.
"These scholarships allow Annabelle to grow and develop into a contributing professional that gives back to the community at large," said Rowland, a co-founder of CybHER. "As one of our CybHER leaders, she has shown leadership and creativity as she gives back and develops lessons and opportunities for the K-12 population." Rowland is Assistant Professor of Computer Science and Cyber Security; she is also Co-Coordinator Center of Excellence, Undergraduate Research Coordinator.
It's a bit early in her career to definitively comment on her career path, but Klosterman said, "I aspire to be a leader in the cybersecurity field and want to empower others to have an impact on the safety of our country's future."
Technology is always changing, and she acknowledges, "It can be challenging to keep up with each new development, but the requirement for cybersecurity won't go away. My goal is to be in a position that changes the way people view and handle security, for their protection and safety, and the benefit of everyone."
Rowland is confident that "Annabelle is a motivated and intelligent student, and I see her making a difference in our world."