October 6, 2020
Five DSU alumni were honored with the annual Outstanding Alumni Awards at the Homecoming game on Saturday, Oct. 3.
Outstanding Alumni – Coach of the Year – Josh Conklin
2003 B.S. Physical Education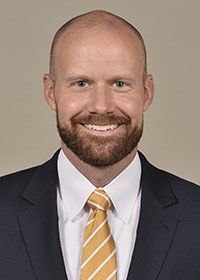 Josh Conklin is entering his third season as head coach of the Wofford College (S.C.) football team. In his first two seasons at the helm, the Terriers won back-to-back Southern Conference Championship and reached the NCAA FCS Playoffs.
"Josh is the complete package," said Wofford College Director of Athletics Richard Johnson, citing his depth and breadth of external experience. Conklin had previous experience at Wofford as an assistant coach. Conklin has additional experience as defensive coordinator at the University of Pittsburgh, Florida International, Tennessee, and The Citadel. Conklin's coaching career was launched at South Dakota State, where he served as a graduate assistant in 2003 and 2004. He then was promoted to a full-time post with the Jackrabbits, coaching the secondary and special teams in 2005 and 2006.
Conklin, a native of Gillette, Wyoming, is a 2003 graduate of Dakota State University. He was a starting linebacker and Academic All-American for the Trojans. In addition to his bachelor's in physical education from DSU, Conklin also earned a master's in sport administration from South Dakota State. He and his wife, Molly, have three children - sons Clark and Davis and daughter Millie.
Outstanding Alumni – Young Alumni – Michael Anderson
2009 B.S. Biology Education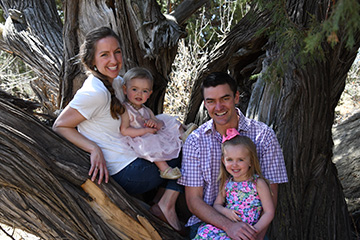 Michael Anderson graduated from Dakota State University in 2009 after completing his science student teaching position in Colorado Springs, Colorado. After teaching in high poverty, high minority schools for the first four years of his career, Michael realized he had to do something to fill the language barriers teachers were experiencing due the high percentage of Spanish speaking families. Michael and his new wife, Madison, moved to Ecuador on a two-year, full Spanish immersion adventure where they lived and taught in an Ecuadorian school. Upon returning to the United States, it was Michael's desire to have a broader effect on the world of education.
Since 2015, Michael has been a middle school administrator. He is currently an assistant principal and athletic director at Jenkins Middle School in Colorado Springs, where he assists teachers and staff, and serves nearly 1,000 students. Because of the skills he acquired while in South America, he supports families as the school's Spanish translator.
Michael is an avid mountain biker and outdoorsman. Michael cherishes the moments he can spend with his family in the mountains. Nothing makes Michael prouder and more delighted than the experiences he shares with his wife and their two daughters Callie (3 years) and Rose (2 years).
Outstanding Alumni – Educator – Laura Biagi
2011 B.S. Education Technology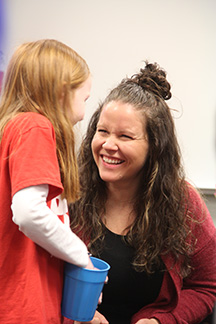 Laura Biagi has been teaching for nine years, beginning at Brandon Valley, and is currently teaching 4th grade in Chester Schools (S.D.). Her favorite thing about teaching is seeing the teachable moments take action. The core subjects are important, but she strives to make her students the best humans they can be. This past year she was awarded Teacher of the Year for the Chester Area School District. Biagi was also named One of the Top Five Outstanding Teachers by Keloland Living.
Biagi gets to know her students on a personal level. They are her "kids." She builds relationships with every student that walks through her door and continues that as they grow, even beyond her classroom. She wants them to succeed and helps anyway she can, by staying late to help kids with work, or taking her work home to better herself so she can help these kids the best she can. She is in constant contact with parents of her students.
Laura lives in Madison with her husband Greg and their four children.
Outstanding Alumni – Service to Alma Mater – Arden Jones
1978 B.S. History Education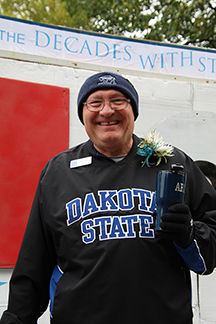 Arden Jones is a 1978 graduate of Dakota State College with a degree in history education. Jones' involvement with DSU began in 2008 when his youngest daughter Cari (a 2012 graduate) started her college career at DSU. Jones volunteered for the Alumni Board in 2009, and was instrumental in establishing the Alumni Tailgating events we see today. During his time on the board, Jones has been vice president, and president, and now serves as past president of the group.
Jones has been very involved in moving the board to the great place they are in today. Although he never used his degree to teach, he feels his DSU education helped propel him to a great career in sales for over 40 years. He sold his interest in his company, Concept Sales, earlier this year, and continues to work for the company through this transition.
Jones's family consists of his wife Debra, three daughters, including DSU alum Cari Argabright, and four grandchildren. He resides in Hartford, S.D., where he is also on the city council.
Outstanding Alumni – Professional Achievement – Matt Paulson
2008 B.S. Computer Science, and 2009 M.S. Information Systems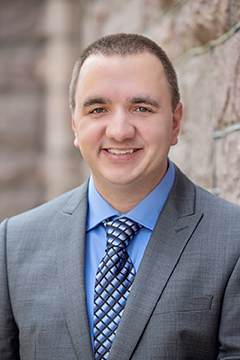 Matt Paulson is the founder and CEO of MarketBeat, an Inc. 5000 financial media company that publishes stock market news, data, and research tools. MarketBeat was recognized as the fastest-growing privately held company in South Dakota by Inc. Magazine in 2016 and has since been recognized by Barron's, Entrepreneur Magazine and several other publications for its continued growth and success. Receiving more than 15 million monthly page views, MarketBeat is arguably South Dakota's widest-reaching vertical media company.
As an active private equity investor, Paulson has invested in more than 60 small businesses and high-growth startups, including Buffer, Dollar Shave Club, Lime, Lyft, Ripple, and Wikia. He also serves as the chairman of Falls Angel Fund, which makes early-stage capital investments in high-growth companies in South Dakota and surrounding states.
In 2019, Paulson founded Startup Sioux Falls, a community organization that aims to connect founders with each other and with the startup ecosystem. He provides leadership to several other startup organizations and events, including 1 Million Cups, Hey Sioux Falls, Innovation Expo, and the Zeal Center for Entrepreneurship. He has also published eight business and personal finance books.
Paulson also has an M.A. in Christian Leadership from Sioux falls Seminary, and provides volunteer leadership to several area non-profits and local political campaigns. Additionally, he was recently named the Small Business Champion of the Year by the South Dakota Small Business Administration.
He lives in Sioux Falls with his wife, Karine, and his two children, Micah and Adylin.