November 2, 2020
Collegiate cyber competitions sharpen the skills Dakota State graduates need for the workplace. Wins in those competitions sharpen DSU's reputation among those in the field.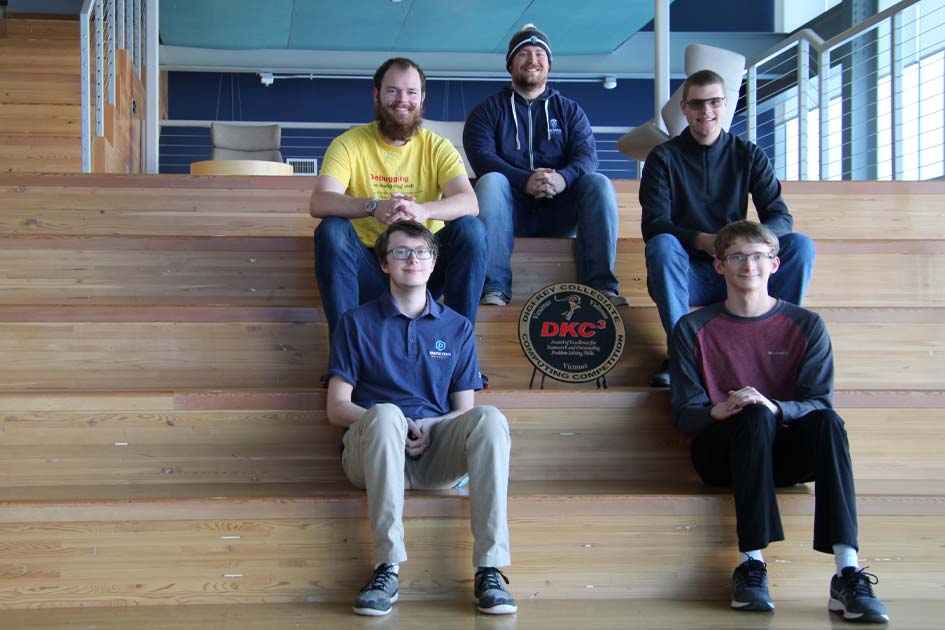 So far this fall, Dakota State teams have competed – and won first place – in several cyber competitions, including Digi-Key Collegiate Computing Competition (third year in a row), MetaCTF's CyberGames 2020 (second year in a row) and top prize in both the student and overall divisions, and Hivestorm.
The competition is stiff: DSU's first-place winning team in Hivestorm beat out the second-place team from the University of Central Florida and the third-place team from the Air Force Academy. In the MetaCTF competition, DSU teams placed 1st, 13th, and 29th overall (1st, 9th, and 18th in the student bracket) against almost 1,600 teams.
These results demonstrate "the caliber of students that we bring to university, and shows the work these students put in," said Dr. Austin O'Brien, assistant professor of computer science and Digi-Key team advisor. "While these students can study and compete anywhere, we're happy they are succeeding at Dakota State."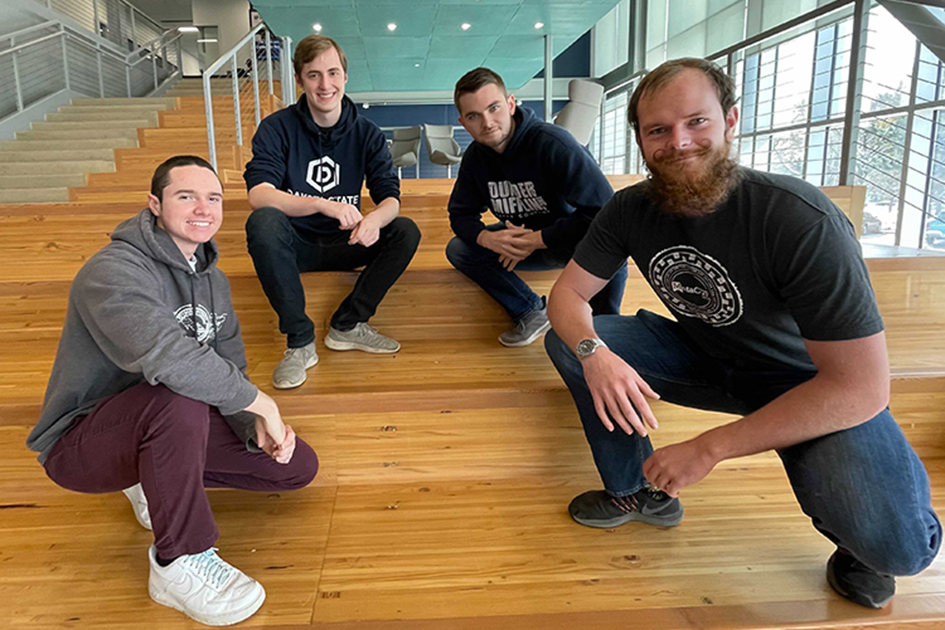 These accomplishments are beginning to gain recognition from organizers and competitors, said Logan Stratton, a Cyber Operations major from Luverne, Minn.
"These wins augment our 'cyber clout,'" said Shane Donahue, a Cyber Operations major from San Diego, Calif.
They also bring recognition from prospective students. Luke Miller, a transfer student from Woodbury, Minn., came to DSU when he realized he wanted to pursue Computer Science as a full-time job. He'd seen DSU teams compete at events such as Dakota Con and felt it would be a good place to further develop his computer science skills professionally. "That's worked out really well for me so I'm happy I made the switch." He is a senior Cyber Operations major.
COMPETITION FOUNDATIONS
Coursework helps build a foundation for competitions – and skills for the workforce. "I appreciate that my classes aren't just shallow," said Gaelin Shupe, a sophomore Cyber Operations major from Boulder, Colo. "They go deep into how things work to really truly understand things." Competitions provide a mental exercise, a development of skills, said Nicholas Sandison, a junior computer science major from Spirit Lake Iowa.
Faculty are integral as well. "The professors are extremely helpful directing you to resources or helping you with questions," said Hans Verhoeven, a graduate student earning his Master of Science in Computer Science. He is from Cottage Grove, Minn.
Team members recommend students participate in these competitions. "It's good to get involved," said Blake Nedved, a senior computer science major from Spirit Lake, Iowa. "We try to pull in as many people as we can."
Jarod Keene, a master's degree Computer Science student from Rapid City, S.D., said they are excited when DSU teams do well. "It's good to see them develop and see the school name develop. If we can do any of that for the school, it'd be really cool," he stated.
---
DIGI-KEY Competition team that also competed
Skylar Hagen
Aaron Ingalls
Cody Mayer
Tim Sereda
HIVESTORM 1st Place Overall
Shane Donahue
Lucas Miller
Gaelin Shupe
Hans Verhoeven

HIVESTORM 5th Place Overall
Austen King
Annabelle Klosterman
Michael Royer
Jacob Hince