Two degrees. Three deployments. 23 years of service.
November 11, 2020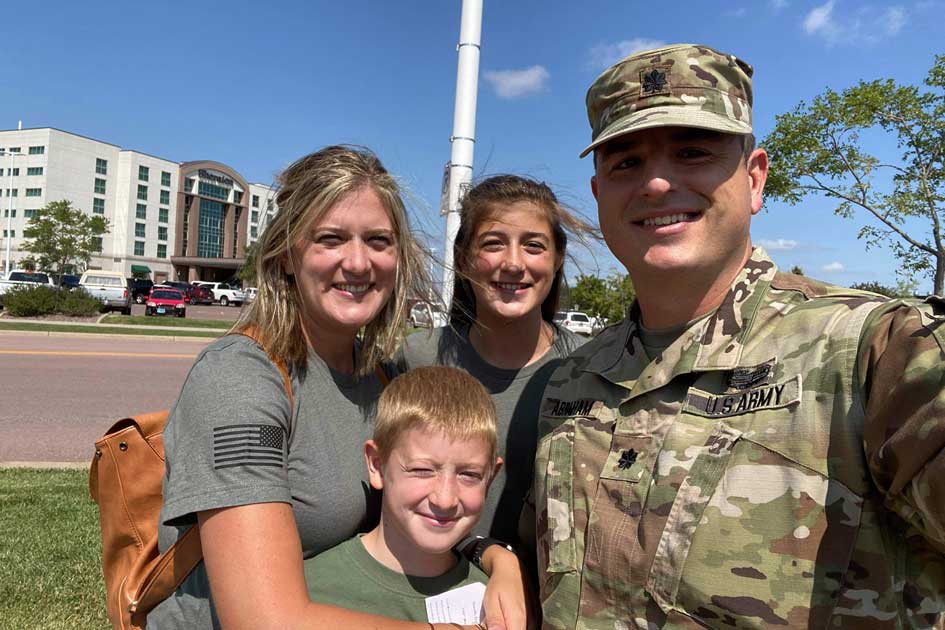 Lieutenant Colonel Heath Abraham is no stranger to serving his country and his community. In 1997, when he was just a junior from Oldham-Ramona high school, he enlisted in the South Dakota Army National Guard as a Combat Engineer, as a means to pay for his college education.
Fast forward to 2003, Abraham graduated as a Distinguished Military Graduate with a Bachelor of Science in Sociology from South Dakota State University (SDSU), with minors in criminal justice and military science. He also received his commission as an officer in the US Army through the SDSU Army Reserve Officer Training Corps (ROTC) program. In July of 2020, he graduated with a master's in business administration from Grantham University.
Since then, Abraham has continued to serve his city, state, and nation as a police officer for the City of Madison, SD, the Safety Resource officer for Dakota State University, and as a soldier. In fact, he's been deployed an admirable three times.
First in 2004 in support of Iraqi Freedom, second in 2009 in support of Operation Enduring Freedom, and finally in Djibouti Africa, as part of the Combined Joint Task Force Horn of Africa.
"My military service has been a means to serve others. It's provided me the opportunity to not just serve my community, but to also serve my state in response to natural disasters," he stated.
The natural disasters in which Abraham assisted was the 2011 flooding of the Missouri River, the 2013 tornado that ripped through Wessington Springs, SD, and throughout his three deployments.
His family has a long history of military service and is very proud of the sacrifices Heath has made for his community and country. He credits his friends and surrounding community members for supporting him in his military efforts.
"The support my family receives from our family, friends, and neighbors gives me an opportunity to serve a greater cause. If it weren't for them, I couldn't leave my family behind. It's nice to know my family is being cared for in my absence," he said.
He also applauds The City of Madison Police Department and DSU for being great supporters of his service and their efforts in displaying their support to him, like putting up yard signs that wish him a safe return.
"They've allowed me to demonstrate my skills gained through my military service to better benefit their organizations. They've fully supported and encouraged my military service, which ultimately supports South Dakota and the United States."
For those seeking educational or professional opportunities at a location that embraces military personnel, Dakota State offers a welcoming campus and military-related programs.
DSU has also been designated as a military-friendly school since 2012 and the Military Times has named DSU as one of the best colleges in the nation for veterans or military members.
For more information, view our Military Admissions page or contact DSU by calling (605) 256-5815 or email veteran.assistant@dsu.edu.