3 faculty selected for biennial art exhibition
March 31, 2021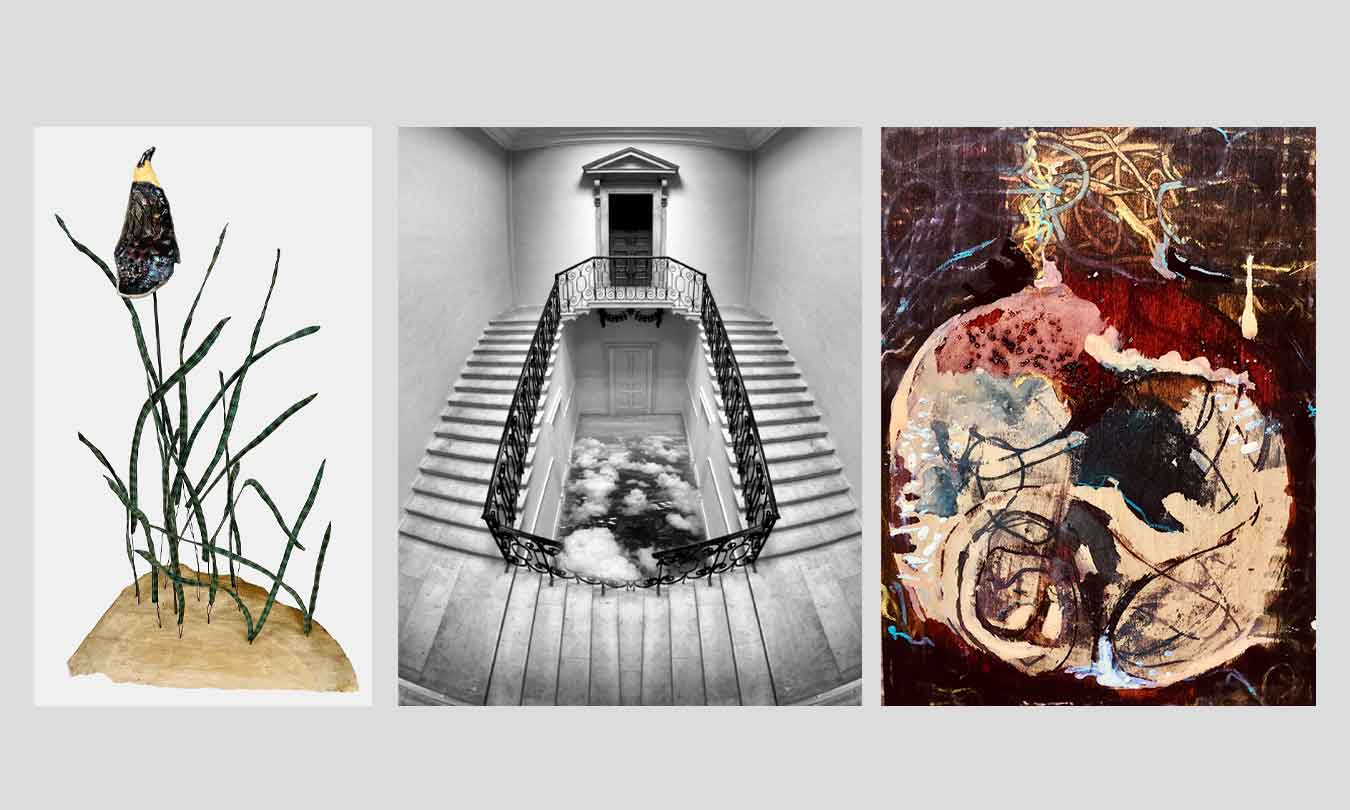 Angela Behrends, Tom Jones, and Alan Montgomery each have artwork featured in the South Dakota Governor's 9th Biennial Art Exhibition.
Haley Larson, assistant professor of English, was also selected to have her artwork, Cladogram, a video, featured in the Governor's 9th Biennial Art Exhibition.
There were 289 submissions by 102 artists; 66 works from 66 artists were selected for the show.
The South Dakota Governor's 9th Biennial Art Exhibition will travel to four venues around South Dakota through March 5, 2022: South Dakota Art Museum in Brookings, the Washington Pavilion in Sioux Falls, the John A. Day Gallery in Vermillion, and the Dahl Arts Center in Rapid City.
This is the fifth Biennial Art Exhibition featuring artwork by Assistant Professor Angela Behrends. Her Raku ceramic and mixed media piece called "Plaid Grass" was inspired by her creative research that include prominent themes of birds and bison.
Behrends notes that animals, plants, soil, water, sound, light, and people are intimately and inextricably tethered.
"When you see my artwork, please understand that I made it for you – a gift of an experience in looking and feeling," she said. "I'm trying to help us all see that everything is connected to everything else in our world."
A photograph entitled "Surreal Door" by Tom Jones, professor of art, is a part of this year's exhibition. Jones' inspiration for the piece was found when he was visiting Hampton Court in the U.K.
"I walked out onto a balcony that was indoors, a door was across from the balcony with stairs going up to it," Jones said. "The façade appeared as if it was expected to belong outdoors."
The lack of belonging gave it a surreal look. The addition of stairs along with the placement of the sky where there would naturally be a floor further enhanced the surreal look, he shared.
"Each piece of work I produce has something that would provide personal meaning to the image," Jones said. "The purposeful meaning is kept secret to allow the viewer to build their own meaning from the piece. If they do not find meaning, I hope they leave the piece wondering."
Alan Montgomery, professor of art, submitted a piece of work he completed while a resident at the Lucid Art Foundation in May 2019. The artwork is entitled "Umphalos; with Portals Open." His piece, which is available for purchase, is mixed media on birchwood cradled panel.
Montgomery appreciates that local artists are highlighted by this exhibition. "As a touring exhibition it represents the diversity and variety of creative activity and expression from all points around South Dakota," he said. "Our state's visual artists have a unique perspective and we get to see it up close and personal."
Exhibition schedule:
South Dakota Art Museum, Brookings: Now – June 13, 2021
Washington Pavilion, Sioux Falls: June 26 – September 19, 2021
John A. Day Gallery, Vermillion: Oct. 16 – Nov. 5, 2021
Dahl Arts Center, Rapid City: Dec. 3 – March 5, 2022