Faculty awards announced at 2021 Honors Reception
April 27, 2021
Four Dakota State University faculty members received awards at the annual Honors Reception on April 20.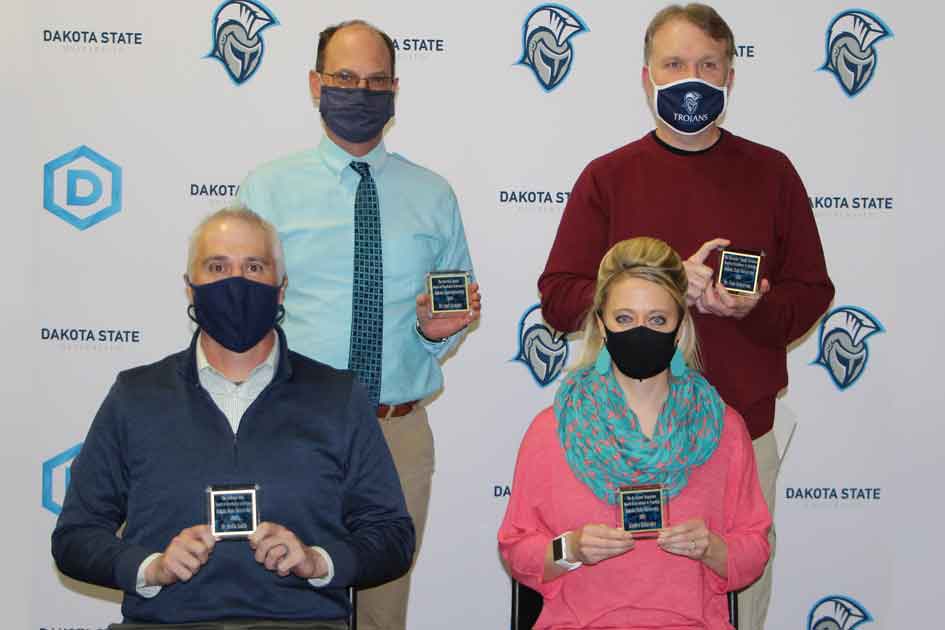 Dr. Tom Halverson, associate professor of Computer Science in The Beacom College of Computer and Cyber Sciences, was presented with the Alexander "Sandy" Davidson Award for Excellence in Advising. The award is sponsored by Davidson's children, Scott and Jenny Weatherill and Brian and Barb Harmdierks. It remembers Davidson's work as Dean of Students and Director of Counseling. He retired from Dakota State in 1985 but remained active on campus and in the community, until he passed away in 2006.
The Merrill Hunter Award for Excellence in Research was presented to Dr. Kurt Kemper. The Hunter family sponsors the award to honor Merrill, long-time Madison newspaper publisher, veteran, and former president of the DSU Foundation. Kemper is professor of history in the College of Arts & Sciences, and director of the General Beadle Honors Program.
Dr. Kevin Smith was honored with the DeWayne Mork Award for Excellence in Service. He is an assistant professor in the College of Education, and coordinator for the Master of Science in Educational Technology Program. Mork was a long-time Madison businessman, philanthropist and community leader. He and his son DeLon were awarded the South Dakota Retailer of the year award in 2004 for the family-run Dairy Queen.
The Ernest Teagarden Award for Excellence in Teaching was presented to Ms. Kindra Schneider, instructor of Elementary Education in the College of Education. The award honors Teagarden, a professor emeritus of business at DSU; it is sponsored by College of Education Dean Dr. Crystal Pauli.
CAPTION: Dakota State's Faculty award winners for the 2020-2021 academic year include: Dr. Kurt Kemper (back left), Dr. Tom Halverson; Dr. Kevin Smith (front left) and Kindra Schneider.