Taking presentation skills to the next level
April 30, 2021
Brizendine, Babcock to speak at two international conferences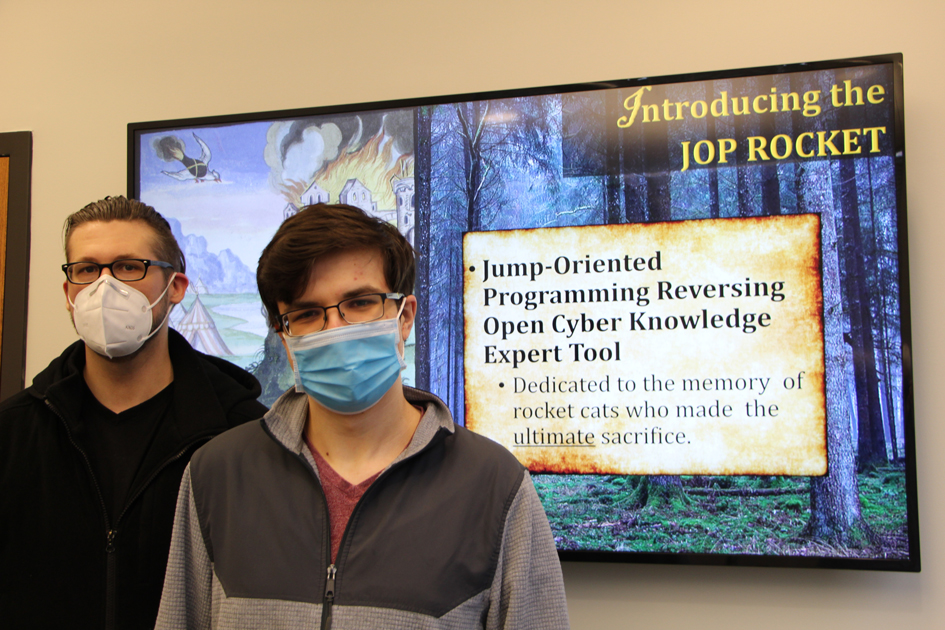 Dr. Bramwell Brizendine and student Austin Babcock have a busy May planned. In addition to finishing an eventful spring semester, they are presenting their research at not one, but two international cyber security conferences.
Black Hat Asia 2021 – May 4-7
The Black Hat Global Security Conferences are the most selective and prestigious computer security conferences in the world. They were created more than 20 years ago to provide security professionals a place to learn the very latest in information security risks, research, and trends. Briefings are held three times a year in Asia, Europe, and the United States. There is a very strict review process on research, with an acceptance rate of less than 20%, allowing only cutting-edge research to be presented.
Brizendine and Babcock will be presenting on continuing research that builds off Brizendine's work with jump-oriented programming (JOP). Brizendine's tool presents a novel method to automatically generate a complete JOP chain. This new research presentation is titled "Pre-built JOP Chains with the JOP ROCKET: Bypassing DEP without ROP." The pair will also have a white paper published in the Black Hat archives.
Babcock has co-presented at several conferences in the past year. He said, "presentations are a great opportunity to develop public speaking skills." The conferences are a longer format, compared to a classroom presentation, he noted, and the subject matter is unique information they are very familiar, with but most of the audience isn't. "That provides a good opportunity to practice delivering that knowledge to an audience and hopefully getting them excited about something that we're excited about as well," he stated.
"Because Black Hat is a very prestigious and important event, they want to make sure there are no problems and want to preserve the 'live' feeling," Brizendine added.
Brizendine was also able to give away several student passes to Black Hat Asia, each valued at about $750, to members of the Malware Club, which he advises.
HACK IN THE BOX – May 27-28
Brizendine and Babcock will also present for Hack in the Box (HITB) in Amsterdam 2021 (virtually) on May 27 - 28.
"Hack in the Box is another extremely high-profile event," Brizendine said. "It enjoys a stature similar to Black Hat and DefCon in Europe and Asia. This year they only selected between eight and twelve talks, so it was extremely competitive, but I was lucky to be selected, along with Austin."
HITB "is a place where ideas are exchanged, talent discovered and genius celebrated," says the conference website. Events typically feature two days of training and a two-day multi-track conference featuring cutting-edge hardcore technical talks delivered by some of the most respected names in the computer security industry. It is free to view and attend online.
Brizendine and Babcock will also be submitting a white paper for HITB as well, which will be published in HITB Magazine.
Brizendine is an assistant professor of Computer and Cyber Sciences in The Beacom College of Computer and Cyber Science. Babcock is earning his master's degree in Computer Science with a cyber operations specialization. He is from Sioux Falls, S.D.